Beeline Broking Brokerage Charges 2019, Reviews, Trading Platform Info.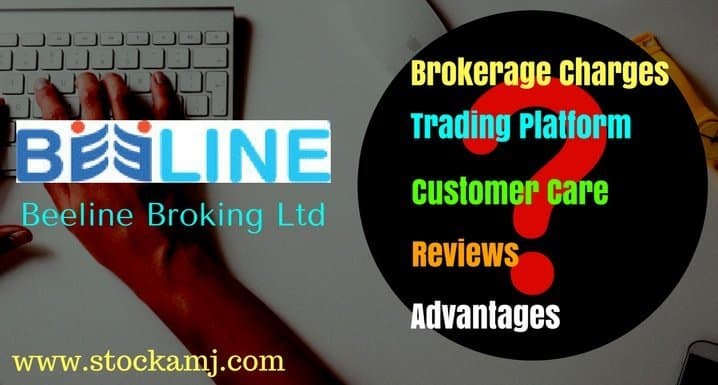 Beeline Broking Ltd is found in 2004 and Mr. Pradeep Sandhir chairman of the company. Beeline Broking is registered member of NSDL. Full-service broker and they offer in-depth research & tips to clients. The main branch is located in Ahmedabad.
Beeline Broking Limited is a discounted online broker, through which Beeline offers business and invested in NSE, BSE, NCDEX, and MCX. They offer all investment in all segments like currency derivation, commodity, insurance, derivatives, equity, Mutual Fund.
India's Frist Stock broker offer full-service brokerage scheme + Discount Brokerage scheme. In discount brokerage plan beeline charge Unlimited Trading @ Rs. 18 Per Order.
Key Features:
Strong market research ideas.
In-depth fundamental and technical analysis.
Professional Trained Money Manager and Research Analysts.
Daily notification on register mail about market situation and Recommendations
Certified financial advisor.
| | |
| --- | --- |
| Website. | www.beelinebroking.com |
| Demat Account. | NSDL. |
| Trading Exchanges. | NSE, BSE, NCDEX. |
| Broker Type. | Full-ServiceBroker & Discount Broker. |
Beeline Broking Account Opening Charges.
Trading Account opening charges (Only one Time): Rs 0
Demat account opening charges (Only one Time): Rs.876 (Demat AMC free for a lifetime)
Trading Annual maintenance charges (AMC): Rs.0
Note: pay one time Rs.876 for open a Demat account and get Demat account annual maintenance Charge free for lifetime.
Beeline Broking Brokerage Charges.
Percentage Brokerage charges:
Equity Intraday: 0.02% on turnover.
Equity Delivery: 0.25% on turnover.
Equity Future: Rs.50 per lot.
Equity Options: Rs.50 per lot.
Currency Futures: 0.01 %
Currency Options: Rs. 15 per lot
Commodity: 0.01 %
Note: Beeline is negotiable if your trading volume is good.
https://www.youtube.com/watch?v=KKS4Exs-pXs
Discounted Brokerage charges.
Equity Intraday: Unlimited Trading at Rs.18 per order. Margins will set up your traditional brokerage.
Equity Delivery: Unlimited Trading at Rs.18 per order. Margins will set up your traditional brokerage.
Equity Future: Unlimited Trading at Rs.18 per order. Margins will set up your traditional brokerage.
Equity Options: Unlimited Trading at Rs.18 per order. Margins will set up your traditional brokerage.
Currency Futures: Unlimited Trading at Rs.18 per order. Margins will set up your traditional brokerage.
Currency Options: Unlimited Trading at Rs.18 per order. Margins will set up your traditional brokerage.
Other charges:
Every year in advance Rs.1800 Account maintenance charges for corporate.
Call & Trade will charge Rs.20 per order extra.
Physical Contract Note will charge ₹20 per contract.
DP transaction charges Rs.15/per transaction plus depository charges for delivery based equity selling.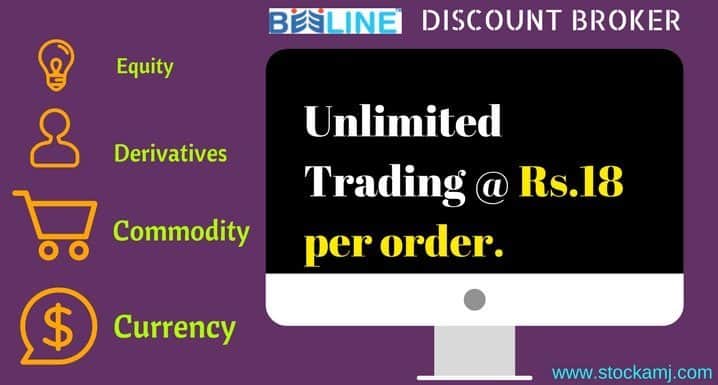 Margin or Leverage.
| | |
| --- | --- |
| SEGMENT. | MARGINS. |
| Equity (Intraday). | Up to 8 times for Intraday. |
| Equity (Delivery). | 4 for Delivery. |
| Equity Futures. | Up to 3 times for Intraday. |
| Equity Options. | No Leverage. |
| Currency Futures. | No Leverage. |
| Currency Options. | No Leverage. |
| Commodity. | No Leverage. |
Trading Platforms or Software.
Beeline offer trading platform in all three version desktop, Browser-based and mobile applications. NSE NOW desktop for software-based trading, NSE NOW WEB for web-based trading and NSE NOW mobile app for mobile users. All three platforms are directly connected to NSE for order and data feed.
NSE NOW desktop Software
This platform is useful for the active trader.
Users can now download on desktops or laptops and it's free to use.
NSE NOW web-based platform.
Browser-based trading portal. It can also use it during low internet connection.
You only need your login details for trading and customer just need an internet connection to open this platform.
NSE NOW Mobile App
NSE NOW mobile application is available on google play store for both Android and IOS users.
Very easy to operate, real-time market watch. Quick order and execution.
Key Features of all three portals:
2-way Authentication for login
Online Alert notification for Client activities
Market watch, Top 5, Trade entry, Order entry any many more.
Payment Gateway for Fund Allocation and Withdrawal
View Bulk Order Entry
Order book & Trade Books with History
Current available Funds View, Stock View.
Net Position or portfolio.
My Armour by Beeline
Beeline also offer My Armour trading software for online trading. This portal is available in both Exe and Web. Rs.100 for desktop version per segment per month & no need to pay for web-based version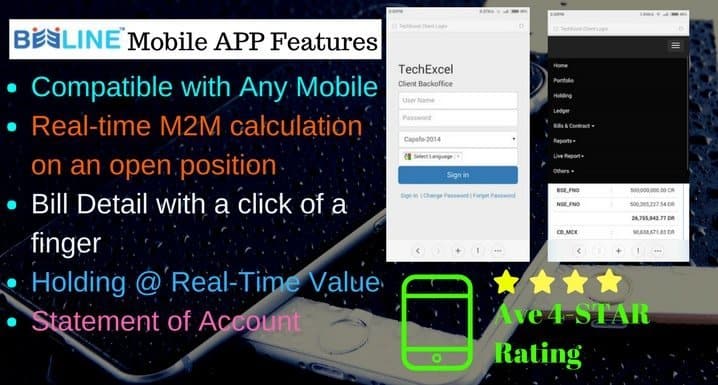 Enquire Beeline Broking Trading Account.
eyJpZCI6IjEwIiwibGFiZWwiOiJPcGVuIEFjY291bnQiLCJhY3RpdmUiOiIxIiwib3JpZ2luYWxfaWQiOiI2IiwidW5pcXVlX2lkIjoiYmpsMTdiIiwicGFyYW1zIjp7ImVuYWJsZUZvck1lbWJlcnNoaXAiOiIwIiwidHBsIjp7IndpZHRoIjoiMTAwIiwid2lkdGhfbWVhc3VyZSI6IiUiLCJiZ190eXBlXzAiOiJjb2xvciIsImJnX2ltZ18wIjoiIiwiYmdfY29sb3JfMCI6IiMzMzMzMzMiLCJiZ190eXBlXzEiOiJub25lIiwiYmdfaW1nXzEiOiIiLCJiZ19jb2xvcl8xIjoiI2ZmZmZmZiIsImJnX3R5cGVfMiI6ImNvbG9yIiwiYmdfaW1nXzIiOiIiLCJiZ19jb2xvcl8yIjoiI2NjMjgwMCIsImJnX3R5cGVfMyI6ImNvbG9yIiwiYmdfaW1nXzMiOiIiLCJiZ19jb2xvcl8zIjoiI2NjMjgwMCIsImZpZWxkX2Vycm9yX2ludmFsaWQiOiIiLCJmb3JtX3NlbnRfbXNnIjoiVGhhbmsgeW91IGZvciBjb250YWN0aW5nIHVzISIsImZvcm1fc2VudF9tc2dfY29sb3IiOiIjNGFlOGVhIiwiaGlkZV9vbl9zdWJtaXQiOiIxIiwicmVkaXJlY3Rfb25fc3VibWl0IjoiIiwidGVzdF9lbWFpbCI6InN0b2NrYW1qN0BnbWFpbC5jb20iLCJzYXZlX2NvbnRhY3RzIjoiMSIsImV4cF9kZWxpbSI6IjsiLCJmYl9jb252ZXJ0X2Jhc2UiOiIiLCJwdWJfcG9zdF90eXBlIjoicG9zdCIsInB1Yl9wb3N0X3N0YXR1cyI6InB1Ymxpc2giLCJyZWdfd3BfY3JlYXRlX3VzZXJfcm9sZSI6InN1YnNjcmliZXIiLCJmaWVsZF93cmFwcGVyIjoiPGRpdiBbZmllbGRfc2hlbGxfY2xhc3Nlc10gW2ZpZWxkX3NoZWxsX3N0eWxlc10+W2ZpZWxkXTxcL2Rpdj4ifSwiZmllbGRzIjpbeyJic19jbGFzc19pZCI6IjEyIiwibmFtZSI6IiIsImxhYmVsIjoiIiwicGxhY2Vob2xkZXIiOiIiLCJ2YWx1ZSI6IjxwIHN0eWxlPVwidGV4dC1hbGlnbjogY2VudGVyO1wiPjxzdHJvbmc+T3BlbiBUcmFkaW5nIEFjY291bnQgTm93PFwvc3Ryb25nPjxcL3A+PHAgc3R5bGU9XCJ0ZXh0LWFsaWduOiBjZW50ZXI7XCI+SnVzdCBTdWJtaXQgWW91ciBEZXRhaWxzXHUwMGEwYW5kIHdlIHdpbGwgdGFrZSBjYXJlIG9mIHJlc3Q8XC9wPiIsImh0bWwiOiJodG1sZGVsaW0iLCJtYW5kYXRvcnkiOiIwIiwiYWRkX2NsYXNzZXMiOiIiLCJhZGRfc3R5bGVzIjoiIiwiYWRkX2F0dHIiOiIifSx7ImJzX2NsYXNzX2lkIjoiMTIiLCJuYW1lIjoiZmlyc3RfbmFtZSIsImxhYmVsIjoiIiwicGxhY2Vob2xkZXIiOiJGdWxsIE5hbWUqIiwidmFsdWUiOiIiLCJodG1sIjoidGV4dCIsIm1hbmRhdG9yeSI6IjEiLCJtaW5fc2l6ZSI6IiIsIm1heF9zaXplIjoiIiwiYWRkX2NsYXNzZXMiOiIiLCJhZGRfc3R5bGVzIjoiIiwiYWRkX2F0dHIiOiIiLCJ2bl9vbmx5X251bWJlciI6IjAiLCJ2bl9vbmx5X2xldHRlcnMiOiIwIiwidm5fcGF0dGVybiI6IjAifSx7ImJzX2NsYXNzX2lkIjoiMTIiLCJuYW1lIjoiZW1haWwiLCJsYWJlbCI6IiIsInBsYWNlaG9sZGVyIjoiRW1haWwgSWQqIiwidmFsdWUiOiIiLCJodG1sIjoiZW1haWwiLCJtYW5kYXRvcnkiOiIxIiwibWluX3NpemUiOiIiLCJtYXhfc2l6ZSI6IiIsImFkZF9jbGFzc2VzIjoiIiwiYWRkX3N0eWxlcyI6IiIsImFkZF9hdHRyIjoiIiwidm5fb25seV9udW1iZXIiOiIwIiwidm5fb25seV9sZXR0ZXJzIjoiMCIsInZuX3BhdHRlcm4iOiIwIn0seyJic19jbGFzc19pZCI6IjEyIiwibmFtZSI6InBob25lIiwibGFiZWwiOiIiLCJwbGFjZWhvbGRlciI6IlBob25lIE51bWJlciAqIiwidmFsdWUiOiIiLCJodG1sIjoidGV4dCIsIm1hbmRhdG9yeSI6IjAiLCJtaW5fc2l6ZSI6IiIsIm1heF9zaXplIjoiIiwiYWRkX2NsYXNzZXMiOiIiLCJhZGRfc3R5bGVzIjoiIiwiYWRkX2F0dHIiOiIiLCJ2bl9vbmx5X251bWJlciI6IjAiLCJ2bl9vbmx5X2xldHRlcnMiOiIwIiwidm5fcGF0dGVybiI6IjAifSx7ImJzX2NsYXNzX2lkIjoiMTIiLCJuYW1lIjoiQ2l0eSIsImxhYmVsIjoiIiwicGxhY2Vob2xkZXIiOiJDaXR5IChNdW1iYWksIFN1cmF0LCBFdGMpIiwidmFsdWUiOiIiLCJodG1sIjoidGV4dCIsIm1hbmRhdG9yeSI6IjAiLCJtaW5fc2l6ZSI6IiIsIm1heF9zaXplIjoiIiwiYWRkX2NsYXNzZXMiOiIiLCJhZGRfc3R5bGVzIjoiIiwiYWRkX2F0dHIiOiIiLCJ2bl9vbmx5X251bWJlciI6IjAiLCJ2bl9vbmx5X2xldHRlcnMiOiIwIiwidm5fcGF0dGVybiI6IiJ9LHsiYnNfY2xhc3NfaWQiOiIxMiIsIm5hbWUiOiJzZW5kIiwibGFiZWwiOiJTdWJtaXQgTm93IiwiaHRtbCI6InN1Ym1pdCIsImFkZF9jbGFzc2VzIjoiIiwiYWRkX3N0eWxlcyI6IiIsImFkZF9hdHRyIjoiIn1dLCJvcHRzX2F0dHJzIjp7ImJnX251bWJlciI6IjQifX0sImltZ19wcmV2aWV3Ijoib3BhY2l0eS1ncmV5LnBuZyIsInZpZXdzIjoiODY5NjIiLCJ1bmlxdWVfdmlld3MiOiI0MTMzOSIsImFjdGlvbnMiOiIyOTciLCJzb3J0X29yZGVyIjoiNiIsImlzX3BybyI6IjAiLCJhYl9pZCI6IjAiLCJkYXRlX2NyZWF0ZWQiOiIyMDE2LTA1LTAzIDAyOjAxOjAzIiwiaW1nX3ByZXZpZXdfdXJsIjoiaHR0cHM6XC9cL3N1cHN5c3RpYy00MmQ3Lmt4Y2RuLmNvbVwvX2Fzc2V0c1wvZm9ybXNcL2ltZ1wvcHJldmlld1wvb3BhY2l0eS1ncmV5LnBuZyIsInZpZXdfaWQiOiIxMF8yMDUxNzQiLCJ2aWV3X2h0bWxfaWQiOiJjc3BGb3JtU2hlbGxfMTBfMjA1MTc0IiwiY29ubmVjdF9oYXNoIjoiOTliOGIzYThhN2U5ODQyOTMxOWY2NmViM2VkMjQyYjEifQ==
Some Useful Services.
| | |
| --- | --- |
| Online Trade Reports. | YES. |
| Online PNL Reports. | YES. |
| Intraday Chart Facility. | NO. |
| End of Day Chart Facility. | NO. |
| 3 in 1 Account. | NO. |
| NRI account opening. | YES |
| Instant Fund withdrawal. | NO. |
| Relationship Managers. | YES. |
Read More Articles:
Customer Care Service Details.
Contact Details.
Registered Office.
Beeline Broking Ltd.
B- 307, Ganesh Plaza,
Beside Navrangpura Post office,
Navrangpura.
Ahmedabad -380009.
Ph.no : 079-66637588.
connect@beelinebroking.com
Call.
Customer Care.
079 – 66637588.
Email.
support@beelinebroking.com
Complaints Or Grievances.
support@beelinebroking.com
Beeline Broking Advantage.
Zero charges for account Opening.
Real-Time Fund Transfer & Auto Exposure Updates features.
Dial-n- Trade service.
Dedicated relationship manager and good customer service.
Investor behavior analytics for better decision
reward point generation for every penny spent on brokerage.
Beeline Broking Disadvantage.
Mutual fund and IPO not available for online.
software charges from users.
only office in Ahmedabad.
Brokerage calculator and margin calculator not available.
Hidden charges
Rating
Summary
Beeline Broking is full-service cum discount broker. You can choose either Rs.18 per order plan or percentage based brokerage plan. Good customer care support. The trading platform is excellent.
eyJpZCI6IjEwIiwibGFiZWwiOiJPcGVuIEFjY291bnQiLCJhY3RpdmUiOiIxIiwib3JpZ2luYWxfaWQiOiI2IiwidW5pcXVlX2lkIjoiYmpsMTdiIiwicGFyYW1zIjp7ImVuYWJsZUZvck1lbWJlcnNoaXAiOiIwIiwidHBsIjp7IndpZHRoIjoiMTAwIiwid2lkdGhfbWVhc3VyZSI6IiUiLCJiZ190eXBlXzAiOiJjb2xvciIsImJnX2ltZ18wIjoiIiwiYmdfY29sb3JfMCI6IiMzMzMzMzMiLCJiZ190eXBlXzEiOiJub25lIiwiYmdfaW1nXzEiOiIiLCJiZ19jb2xvcl8xIjoiI2ZmZmZmZiIsImJnX3R5cGVfMiI6ImNvbG9yIiwiYmdfaW1nXzIiOiIiLCJiZ19jb2xvcl8yIjoiI2NjMjgwMCIsImJnX3R5cGVfMyI6ImNvbG9yIiwiYmdfaW1nXzMiOiIiLCJiZ19jb2xvcl8zIjoiI2NjMjgwMCIsImZpZWxkX2Vycm9yX2ludmFsaWQiOiIiLCJmb3JtX3NlbnRfbXNnIjoiVGhhbmsgeW91IGZvciBjb250YWN0aW5nIHVzISIsImZvcm1fc2VudF9tc2dfY29sb3IiOiIjNGFlOGVhIiwiaGlkZV9vbl9zdWJtaXQiOiIxIiwicmVkaXJlY3Rfb25fc3VibWl0IjoiIiwidGVzdF9lbWFpbCI6InN0b2NrYW1qN0BnbWFpbC5jb20iLCJzYXZlX2NvbnRhY3RzIjoiMSIsImV4cF9kZWxpbSI6IjsiLCJmYl9jb252ZXJ0X2Jhc2UiOiIiLCJwdWJfcG9zdF90eXBlIjoicG9zdCIsInB1Yl9wb3N0X3N0YXR1cyI6InB1Ymxpc2giLCJyZWdfd3BfY3JlYXRlX3VzZXJfcm9sZSI6InN1YnNjcmliZXIiLCJmaWVsZF93cmFwcGVyIjoiPGRpdiBbZmllbGRfc2hlbGxfY2xhc3Nlc10gW2ZpZWxkX3NoZWxsX3N0eWxlc10+W2ZpZWxkXTxcL2Rpdj4ifSwiZmllbGRzIjpbeyJic19jbGFzc19pZCI6IjEyIiwibmFtZSI6IiIsImxhYmVsIjoiIiwicGxhY2Vob2xkZXIiOiIiLCJ2YWx1ZSI6IjxwIHN0eWxlPVwidGV4dC1hbGlnbjogY2VudGVyO1wiPjxzdHJvbmc+T3BlbiBUcmFkaW5nIEFjY291bnQgTm93PFwvc3Ryb25nPjxcL3A+PHAgc3R5bGU9XCJ0ZXh0LWFsaWduOiBjZW50ZXI7XCI+SnVzdCBTdWJtaXQgWW91ciBEZXRhaWxzXHUwMGEwYW5kIHdlIHdpbGwgdGFrZSBjYXJlIG9mIHJlc3Q8XC9wPiIsImh0bWwiOiJodG1sZGVsaW0iLCJtYW5kYXRvcnkiOiIwIiwiYWRkX2NsYXNzZXMiOiIiLCJhZGRfc3R5bGVzIjoiIiwiYWRkX2F0dHIiOiIifSx7ImJzX2NsYXNzX2lkIjoiMTIiLCJuYW1lIjoiZmlyc3RfbmFtZSIsImxhYmVsIjoiIiwicGxhY2Vob2xkZXIiOiJGdWxsIE5hbWUqIiwidmFsdWUiOiIiLCJodG1sIjoidGV4dCIsIm1hbmRhdG9yeSI6IjEiLCJtaW5fc2l6ZSI6IiIsIm1heF9zaXplIjoiIiwiYWRkX2NsYXNzZXMiOiIiLCJhZGRfc3R5bGVzIjoiIiwiYWRkX2F0dHIiOiIiLCJ2bl9vbmx5X251bWJlciI6IjAiLCJ2bl9vbmx5X2xldHRlcnMiOiIwIiwidm5fcGF0dGVybiI6IjAifSx7ImJzX2NsYXNzX2lkIjoiMTIiLCJuYW1lIjoiZW1haWwiLCJsYWJlbCI6IiIsInBsYWNlaG9sZGVyIjoiRW1haWwgSWQqIiwidmFsdWUiOiIiLCJodG1sIjoiZW1haWwiLCJtYW5kYXRvcnkiOiIxIiwibWluX3NpemUiOiIiLCJtYXhfc2l6ZSI6IiIsImFkZF9jbGFzc2VzIjoiIiwiYWRkX3N0eWxlcyI6IiIsImFkZF9hdHRyIjoiIiwidm5fb25seV9udW1iZXIiOiIwIiwidm5fb25seV9sZXR0ZXJzIjoiMCIsInZuX3BhdHRlcm4iOiIwIn0seyJic19jbGFzc19pZCI6IjEyIiwibmFtZSI6InBob25lIiwibGFiZWwiOiIiLCJwbGFjZWhvbGRlciI6IlBob25lIE51bWJlciAqIiwidmFsdWUiOiIiLCJodG1sIjoidGV4dCIsIm1hbmRhdG9yeSI6IjAiLCJtaW5fc2l6ZSI6IiIsIm1heF9zaXplIjoiIiwiYWRkX2NsYXNzZXMiOiIiLCJhZGRfc3R5bGVzIjoiIiwiYWRkX2F0dHIiOiIiLCJ2bl9vbmx5X251bWJlciI6IjAiLCJ2bl9vbmx5X2xldHRlcnMiOiIwIiwidm5fcGF0dGVybiI6IjAifSx7ImJzX2NsYXNzX2lkIjoiMTIiLCJuYW1lIjoiQ2l0eSIsImxhYmVsIjoiIiwicGxhY2Vob2xkZXIiOiJDaXR5IChNdW1iYWksIFN1cmF0LCBFdGMpIiwidmFsdWUiOiIiLCJodG1sIjoidGV4dCIsIm1hbmRhdG9yeSI6IjAiLCJtaW5fc2l6ZSI6IiIsIm1heF9zaXplIjoiIiwiYWRkX2NsYXNzZXMiOiIiLCJhZGRfc3R5bGVzIjoiIiwiYWRkX2F0dHIiOiIiLCJ2bl9vbmx5X251bWJlciI6IjAiLCJ2bl9vbmx5X2xldHRlcnMiOiIwIiwidm5fcGF0dGVybiI6IiJ9LHsiYnNfY2xhc3NfaWQiOiIxMiIsIm5hbWUiOiJzZW5kIiwibGFiZWwiOiJTdWJtaXQgTm93IiwiaHRtbCI6InN1Ym1pdCIsImFkZF9jbGFzc2VzIjoiIiwiYWRkX3N0eWxlcyI6IiIsImFkZF9hdHRyIjoiIn1dLCJvcHRzX2F0dHJzIjp7ImJnX251bWJlciI6IjQifX0sImltZ19wcmV2aWV3Ijoib3BhY2l0eS1ncmV5LnBuZyIsInZpZXdzIjoiODY5NjIiLCJ1bmlxdWVfdmlld3MiOiI0MTMzOSIsImFjdGlvbnMiOiIyOTciLCJzb3J0X29yZGVyIjoiNiIsImlzX3BybyI6IjAiLCJhYl9pZCI6IjAiLCJkYXRlX2NyZWF0ZWQiOiIyMDE2LTA1LTAzIDAyOjAxOjAzIiwiaW1nX3ByZXZpZXdfdXJsIjoiaHR0cHM6XC9cL3N1cHN5c3RpYy00MmQ3Lmt4Y2RuLmNvbVwvX2Fzc2V0c1wvZm9ybXNcL2ltZ1wvcHJldmlld1wvb3BhY2l0eS1ncmV5LnBuZyIsInZpZXdfaWQiOiIxMF8yMTU3NDkiLCJ2aWV3X2h0bWxfaWQiOiJjc3BGb3JtU2hlbGxfMTBfMjE1NzQ5IiwiY29ubmVjdF9oYXNoIjoiOTliOGIzYThhN2U5ODQyOTMxOWY2NmViM2VkMjQyYjEifQ==