As the number of traders and investors are growing, people are looking for better and cheaper trading platform. With an increase in the number of Mobile phone users, mobile-based stock trading apps are gaining popularity.
This has lead to exponential growth in the online trading platforms that offer an excellent opportunity for investors to traders and investors.
This article is about one such mobile-based trading platform, 5Paisa mobile app.
APP Size: 19 MB
Total Installs: 10,00,000+
Current Version: 3.2.1
Android Required: 4.1 and +
Rating By Users: 3.9 Stars from 57,242 Users
Download: 5paisa
Let's begin
5Paisa Mobile App
It is a low-cost, mobile-based trading platform that offers an excellent opportunity to the investors for investment in various stock markets products like equity stocks, mutual funds, currency, and insurance across BSE (Bombay Stock Exchange) and NSE(National Stock Exchange). The brokerage is very low, making it one of the most affordable trading platform available.
It's backed up by IIFL (India Infoline) and receives regular updates, offering full security and safety.
Its main attraction is its simple brokerage model. Unlike other big-wig platforms, where brokerage varies as per your order's size and quantity, at 5paisa, any single order will cost you INR 20. This model makes it very convenient, especially for novice and small investors.
The app is a fully functional and very attractive trading platform that every trader or investor needs.
It also offers integrated services like Algo trading and swing trading through certain research products. Its user interface is simple, attractive and easy to navigate with fresh styling. This app is available on iOS and Android platform.
Features of 5paisa App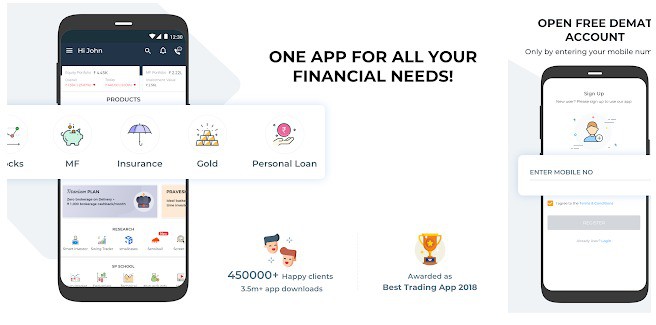 This app is studded with various vital features necessary for smooth and simplified trading and investment. Let's check out some of its essential features.
Dashboard
The dashboard of 5paisa application is laden with all the major indices along with movements of some stocks. The dashboard also contains the option to go to insurance and mutual fund section.
Search Option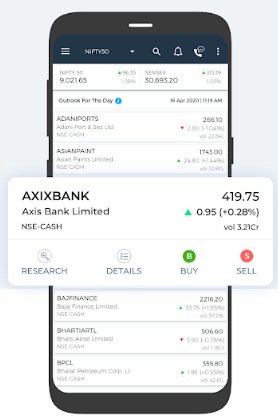 If you are looking for any particular stock to invest or to study, all you need to do is enter its name in the search bar, and the application will display all the necessary information about the stock along with all the required charts.
Mutual Funds
If you are interested in any mutual funds, you can view it by typing its name in the search bar. Variety of mutual funds forms every section like equity-based funds, guilt funds, or debt funds. After proper analysis, and depending on your goal, you can choose any fund you like.
Nowadays, people love to invest in mutual funds a lot. SIPs are a very efficient way of investing in mutual funds. If you are looking to invest in the SIP, this facility is also available in this app.
5paisa Auto Investor
5paisa also comes with a fantastic feature called "5paisa Auto Investor". It is an automated system that suggests the best investment option to the user on the basis of user information like his/her risk appetite, age, demography, income goals, and tenure of investment.
Customize Option
This platform helps the investor to customize his/her mutual fund portfolio according to his/her goals and needs.
Watchlist
You can add any stock to your watch list with a single tap. In this application, you can create three such watchlists with 50 scrips in each. This watchlist is very helpful in studying and analyzing any stock you are looking to invest in the near future.
History Data
There is also an option to view top gainers, losers and market movers from the past year. This can be very helpful in understanding the trend in the market.
Charts Study
For efficient investment strategies, it's vital to study technical and fundamental charts. 5paisa provides various fundamental and technical charts for the detailed analysis of any stock that intrigues you. This feature is beneficial in predicting future movements of stock and makes your investment easy.
Currency Trading
In 5paisa app, you also get the option for currency trading, and F&O. Currency trading is very hot in the investors in recent time. You can take the benefit of this by using 5paisa app.
Real Time Quotes
You also get real-time quotes from the entire segment, so it becomes easy for you to trade anywhere.
One Window Management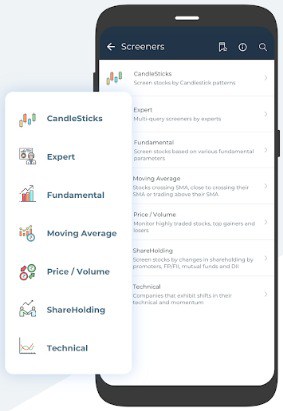 You can manage your Demat account and all other trading accounts from a single platform with improved efficiency.
Other Features
There are very few apps out there that are as versatile as 5Paisa. 5paisa offers you a unique opportunity to invest in vehicle insurance, health insurance or Life insurance. With 5paisa installed in your mobile, you won't have to look anywhere else for
eKYC
5paisa offers have a unique feature that lets you open new accounting through Adhaar card through eKYC. The process allows you to open an account without any physical papers making it the most efficient and rapid way to open an account.
Advantages of 5paisa Mobile App
For every trading platform, it's critical to have a robust safety and security layer to protect any hacking attempts. 5paisa mobile app comes with 256-bit SSL encryption that offers unmatched security to the user data, making it almost impossible to hack. This is the most important advantage of 5paisa .com
Today, no one wants to spend money on anything without the prior testing of it. 5paisa offers free guest login to the interested users who want to check the app and its features. Using this guest login, you can view and test the app without investing money in it.
If you are looking for a personalize demo, contact us, we can help you understand all the features of this app in detail, offering you a unique trading opportunity.
The order executions, trading and investment, are quite seamless and prompt. The app is very responsive and quick. So you won't be complaining about lags and sluggish sleep!
A personalized app offers a very helpful and interesting way to trade and invest. So, 5paisa offers you an option to customize your application. You can change background, notifications and alerts to whatever you like.
Customer support is a vital part of running such a big platform is very important. Wit variable customer support like on-call customer support and customer support through chat, 5paisa can help you resolve your queries whenever they arise.
There are certain paid features like Smart Investors and Smart Traders too. These features can help you a lot if you are planning to invest for the long term. These tips are based n fundamental research and help you grow your wealth.
Disadvantages of 5paisa Mbile App
No platform is perfect. Similarly 5paisa to have some disadvantages in it. Let's take a look.
Charts are a very integral part of studying and analyzing any stock. So it's important they load easily and promptly. But in 5paisa, sometimes it happens that it takes a while for charts to load. This makes a user very impatient.
The commodity is a very big market. Many traders and investors who trade in stocks and currencies, trade-in commodities too. But 5paisa does not provide an option for those investors as the feature of commodity trading is not available in the 5paisa mobile app.
It is also reported that promotional messages related to insurance and SIPs. It becomes very difficult to focus on the things you are doing when such ads keep popping up.
Many users have reported that the 5paisa app hangs a lot while trading. This happens mainly while performing Intraday Trading. This is very annoying as in the case of intraday trading; timing is very critical. If an app hangs during this time, a user may miss a chance to make a profit.
Note: Although, overall 5paisa is a good app that can be used for trading and investing, there are certain areas where many improvements can be made. With those improvements, it can become one of the best trading platforms available online.
5paisa: Stocks, Share Market Trading App, NSE, BSE Rating on Google play store

Final words
5paisa is a unique platform that offers versatile options to invest in the stock market at a very affordable brokerage charge. There are very few other similar platforms that are as efficient and as cheap as 5paisa.
This app is best suited for the beginners and novice traders due its rich functionality and affordable brokerage. It offers a great user experience and high efficiency. The framework of 5paisa mobile app is very simple and user-friendly, so it can be very helpful to new traders in understanding the way stock market works.
Although some touching and finishing is needed on the app, and it's a user interface with additional features like commodity trading, right now it is the best you can get at this price!
If you are looking forward to taking your first steps in the stock market, 5 paisa mobile app is a very good option for you!
I hope this article has solved your many queries about the app. If you are looking for more information on 5 paisa app or the stock market, visit us, and we will help you out.
Take a Look