1) Only Rs.20 Flat Brokerage per order for all intraday, F&O, Currencies & Commodities & Rs. 0 free Equity Delivery (No Hidden Charges)
2) Multiple online trading platforms to choose from.
3) Top-quality research powered by ARQ predictions, helping you to pick & invest in the best stocks – always.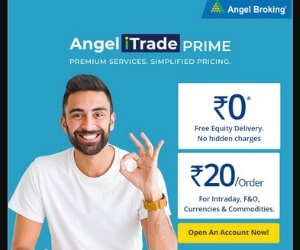 Introduction of Angel Broking Brokerage Discount Offer.
Margin Funding up to 40 Times enables you to benefit from Market Opportunities more than any discount broker.
Free Account Opening in 1 Hour.

Online Trading Benefit with Angel Broking.
Enjoy access to comprehensive market information with Angel Market Watch.
Get instant online fund transfer and limits from 41 banks.
share online trading, utilize our proprietary apps such as Angel Eye, Angel SpeedPro andAngel Broking App.
Get invaluable market insights with industry's sought-after research reports, articles, and videos prepared by Angel experts.
You can also – operate multiple trading accounts; check back-office accounts.
Take a Look