At present, Zerodha is the stock broker with the highest number of Demat accounts holders in India. In the past, it was just an offline process to open an account. The process of Zerodha Demat Online Account opening is getting easier as the digital revolution is taking place.
First 2 Steps for Zerodha Demat Online Account Opening.
Click here first to open an online form account than submit your 10 digit mobile number and verify OTP.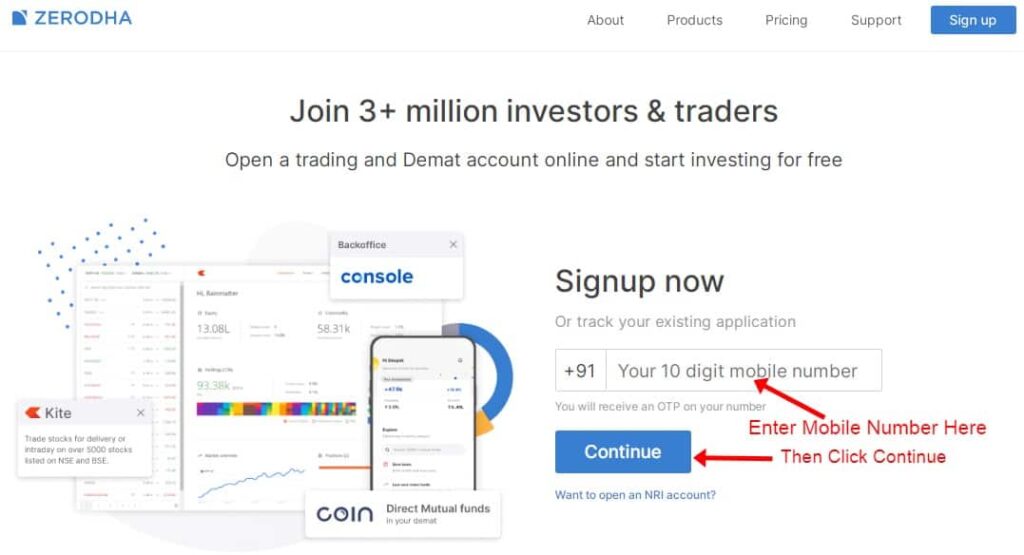 Than Enter Your Name and Email-ID and submit. Verify OTP received through Email-ID.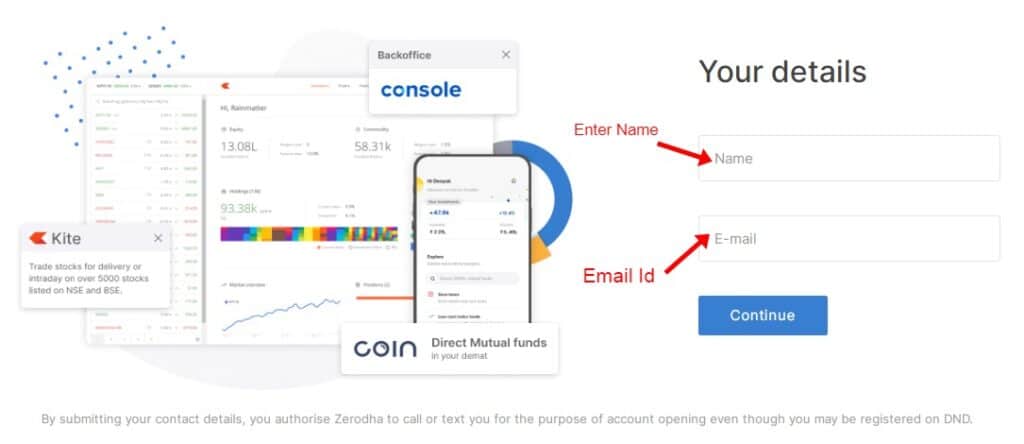 Before go for next step Lets see Important Details of Zerodha.
Why Zerodha is Best Discount Stock Broker?
Biggest stock broker in India: More than 3 million clients trust zerodha and trade though zerodha trading platform.
Segment Available: Futures and Options, Commodity derivatives, Currency derivatives, Stocks & IPOs, Direct mutual funds, Bonds and Govt. Securities
Brokerage Charges: ₹ 20 or 0.03% for Intraday and F&O trades & ₹ 0 for Equity Delivery.
Trading Platforms: Zerodha provides high-end, fast and easy to use trading platforms.
Hidden Charges: Zerodha shows complete transparency in charges and zero hidden charges.
Customer Care: Zerodha offers best customer care support.
Zerodha Account Opening Charges
Online Account Opening: ₹ 200 for equity account opening and ₹ 300 for equity+commodity account opening.
Offline Account Opening: ₹ 300 for equity account opening and ₹ 500 for equity+commodity account opening.
Zerodha Brokerage and other Charges
Equity Intraday: Flat Rs. 20 or 0.03% (whichever is lower) per executed order
Equity Delivery: ₹ 0 (Free)
Equity Future: ₹ 20 or 0.03% (whichever is lower) per executed order.
Equity Options: ₹ 20 or 0.03% (whichever is lower) per executed order.
Currency Future: ₹ 20 or 0.03% (whichever is lower) per executed order.
Currency Option: ₹ 20 or 0.03% (whichever is lower) per executed order.
Commodity: ₹ 20 or 0.03% (whichever is lower) per executed order.
Mutual Funds: ₹ 0 (Free)
Call & Trade: Brokerage + ₹50 per order.
RMS Auto-squareoff: Brokerage + ₹50 per order.
Contract Note: ₹20 per contract note (Physical copy) + Courier charges
Zerodha Account Additional Features
Features
Details
Desktop Trading Platform
YES
Web Trading Platform
YES
Mobile App
YES
Algo Trading
YES
Online Trade Reports
YES
Online PNL Reports
YES
Online Contract Notes
YES
Brokerage Calculator
YES
Margin Calculator
YES
Trailing Stoploss
YES
Education Blogs
YES
3 in 1 Account
Demat+Trading+IDFC Account
YES
How to Open Zerodha Demat Account?
It is very easy to open an account in zerodha. There are two ways you can open an account.
Zerodha Online Account Opening
Zerodha Offline Account Opening
Documents Required for Zerodha Account Opening
Documents required for online account opening process
Pan card.
Aadhaar Card (Mobile Number linked).
Cancelled cheque or Bank statement or Bank passbook (Bank Account Number, IFSC code or MICR code necessary).
A photo or scan copy of Signature (Use white paper for signature).
For Futures & Options, MCX Commodity, Income proof Required (Any one)
Income Tax Return.
Form-16
Bank statement-6 month
Salary slip (latest)
Demat holding statement
Certificate of net-worth
Note: Before start Account opening process keep all these documents ready. for online process photo or scanned copy of document is required for uploads
How to Open Zerodha Account Online – Steps you need to follow
Its takes hardly 15 minutes to complete all process just you need to follow step-by-step.
Step 1. Signup Now
1st Click here to open Zerodha account signup form. Enter your mobile number then click on continue.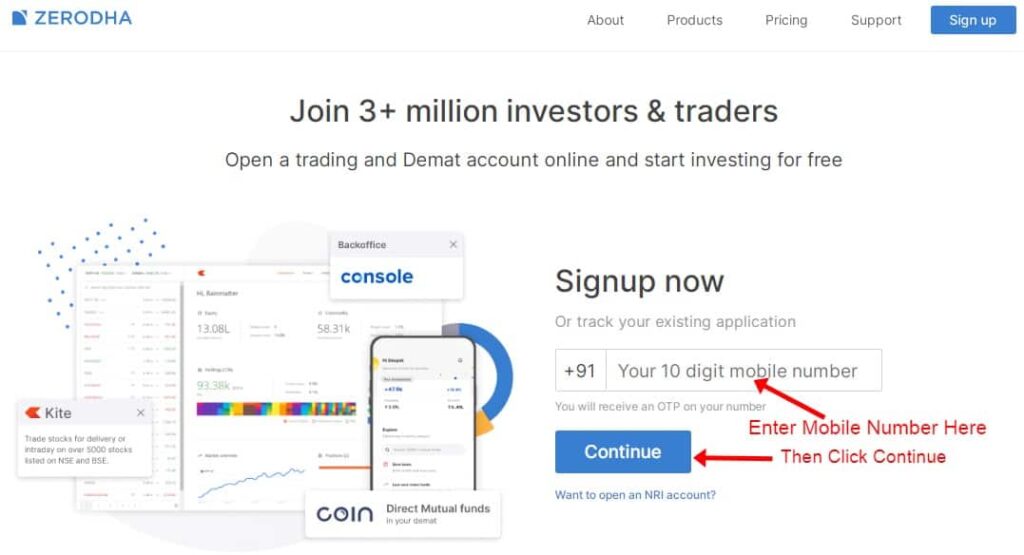 Step 2. Verify Mobile OTP
Once you successfully enter your mobile number you will receive OTP on Mobile.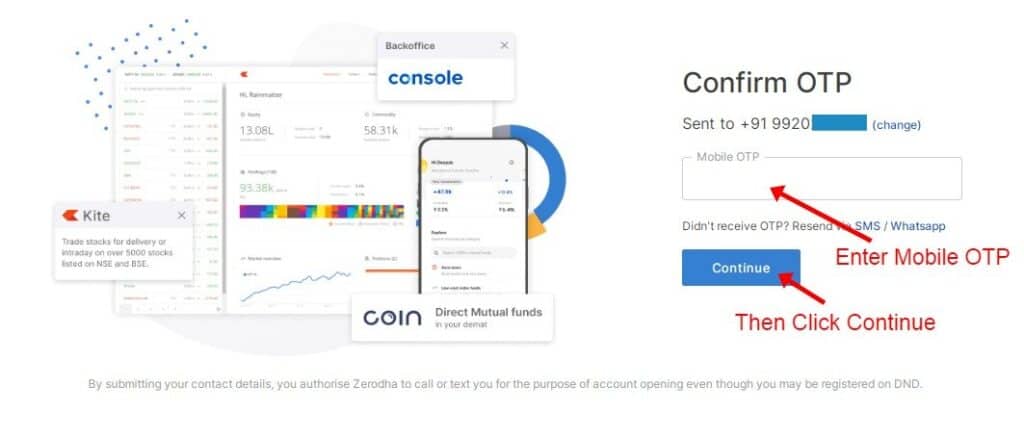 Step 3. Enter Correct Email-id
Pls submit correct email id and enter. After submission of email id pls check your Inbox for OTP (Email id verification)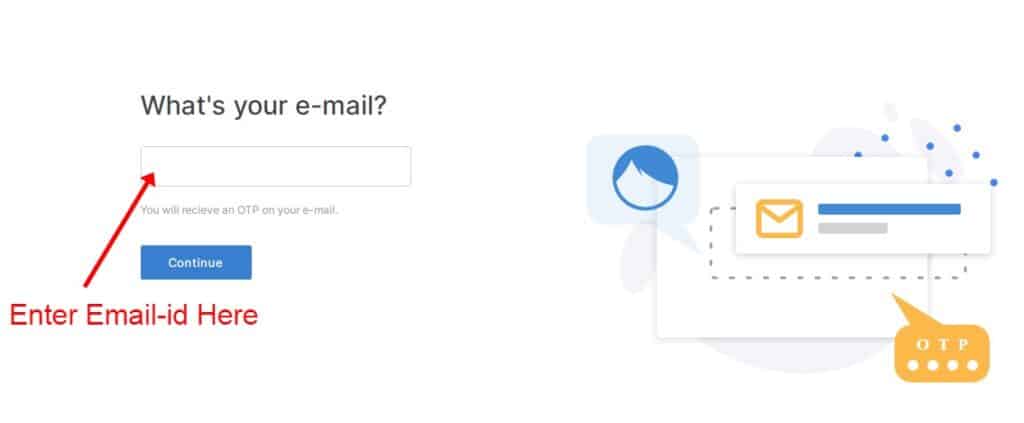 Check you Email for OTP (Inbox or spam folder). Once your receive OTP follow below step

Step 4. Pan Card Number and Date of Birth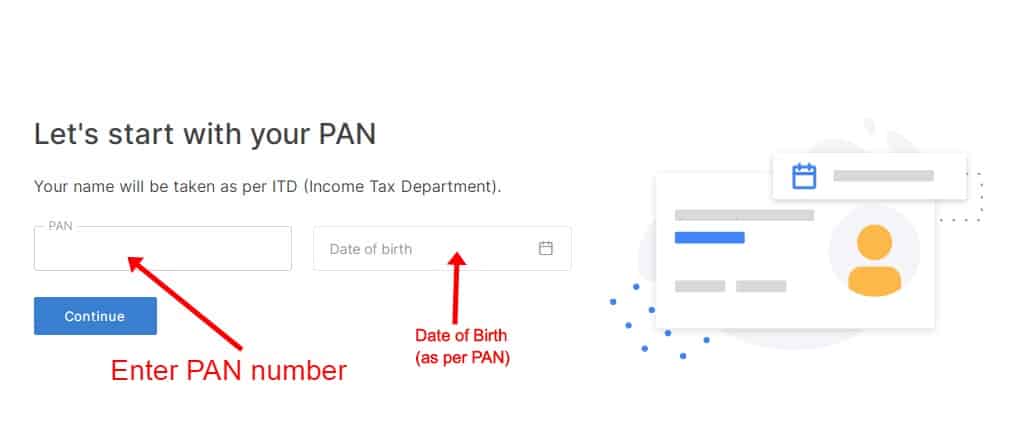 Step 5. Payment for Account Opening
If you required both equity + commodity account than click on both options. Income proof required for Future & options, Commodity trading.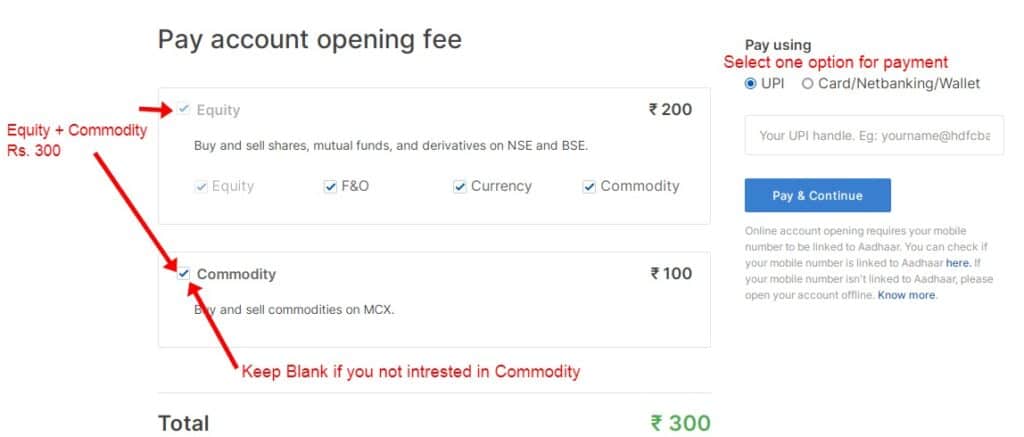 Once you click on pay & continue you will redirect to below payment window. Make a payment follow step no. 6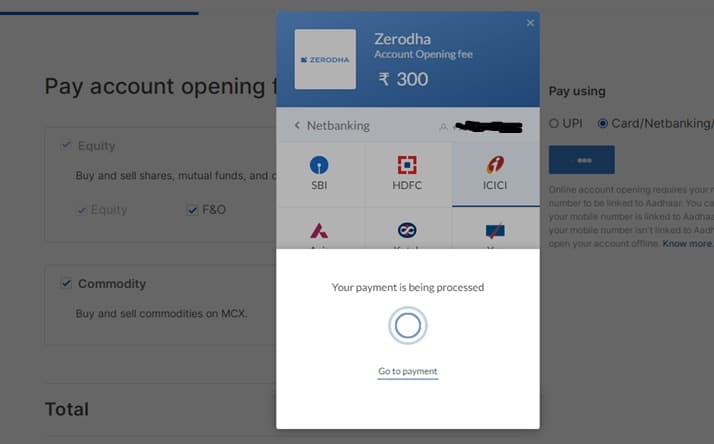 Step 6. Aadhaar KYC (Digilocker)
After successful payment you need to complete Aadhaar KYC (Digilocker) process.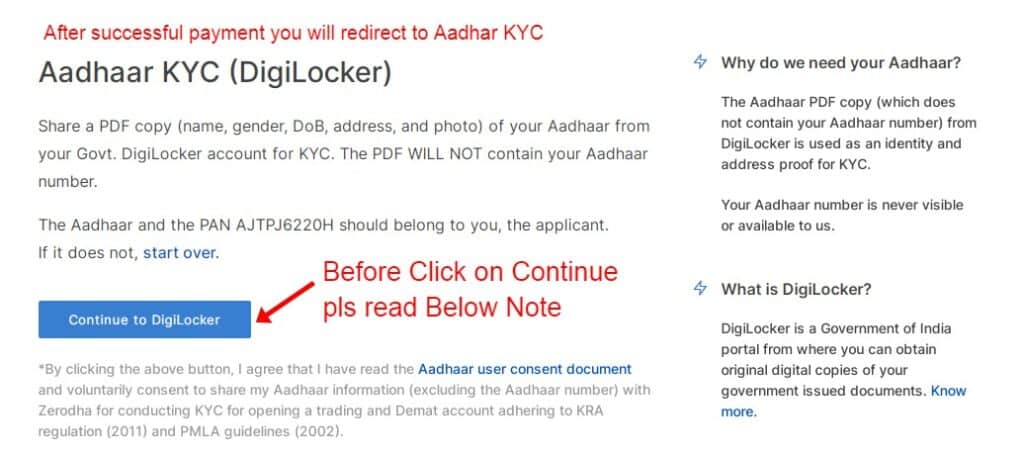 Note: You may receive this error message (Unable to process your documents. please do KYC on digilocker again and proceed here). How to fix this?
Enter your 12 digit Aadhaar card number than click Next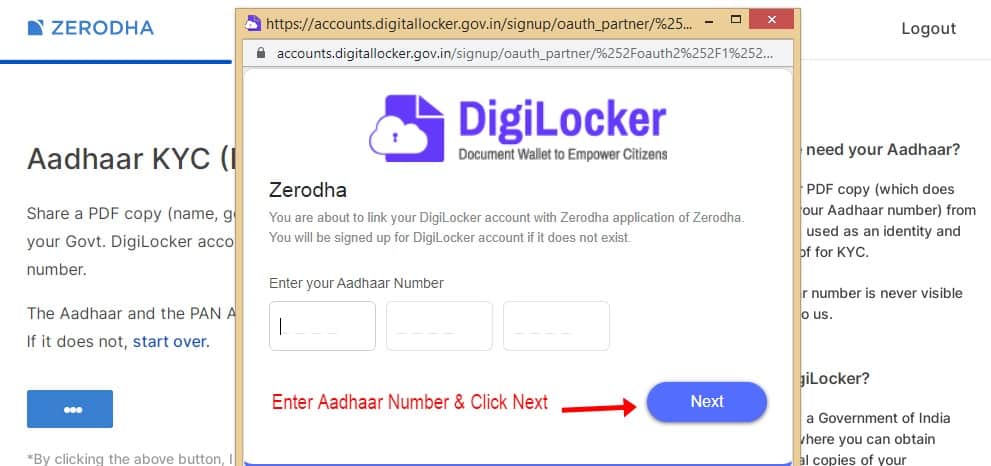 After Aadhaar number submission you will receive OTP on Mobile (Your mobile number linked with Aadhaar is mandatory)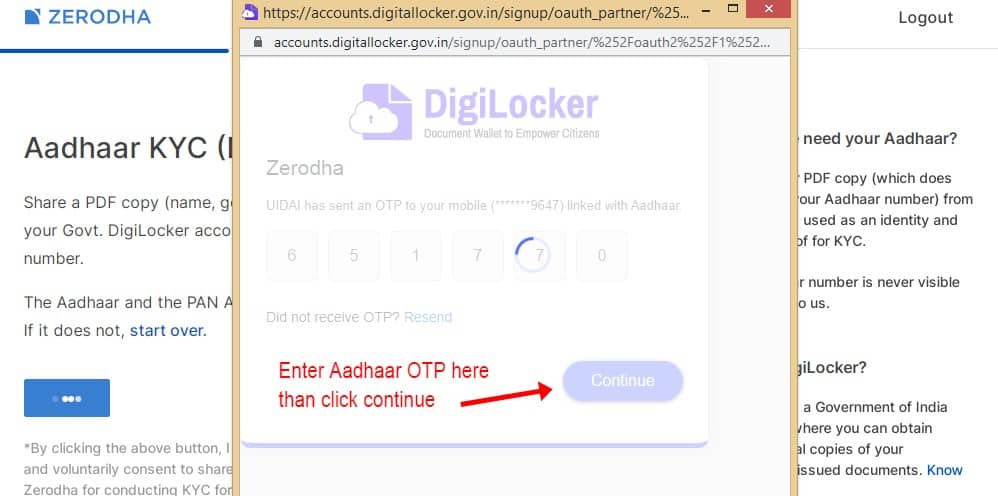 Once you verifies your mobile OTP with Aadhaar number allow all the permission to zerodha. Refer below image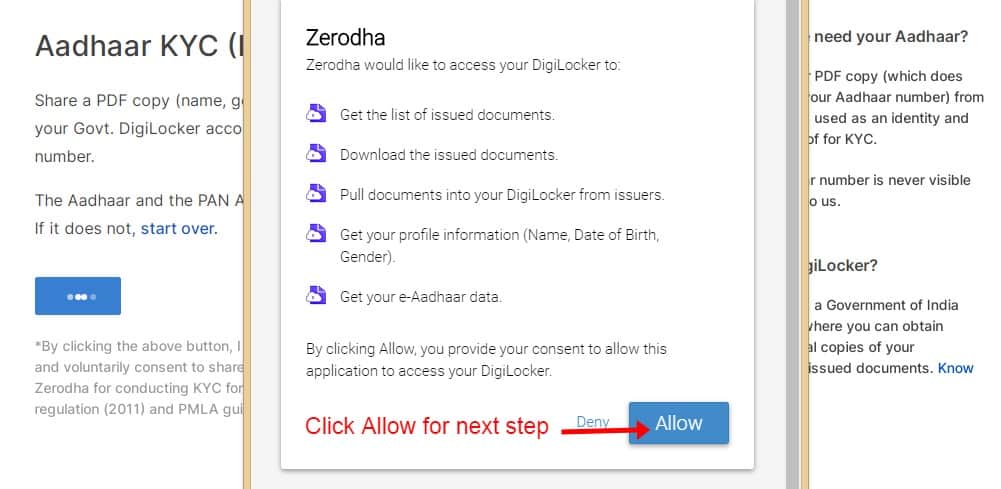 Step 7. Complete Your Profile
Once you provide all permission to Zerodha for Digilocker access. Then Your data like name, DOB, Gender, Email-id, Address & Pan number will fetch with profile form.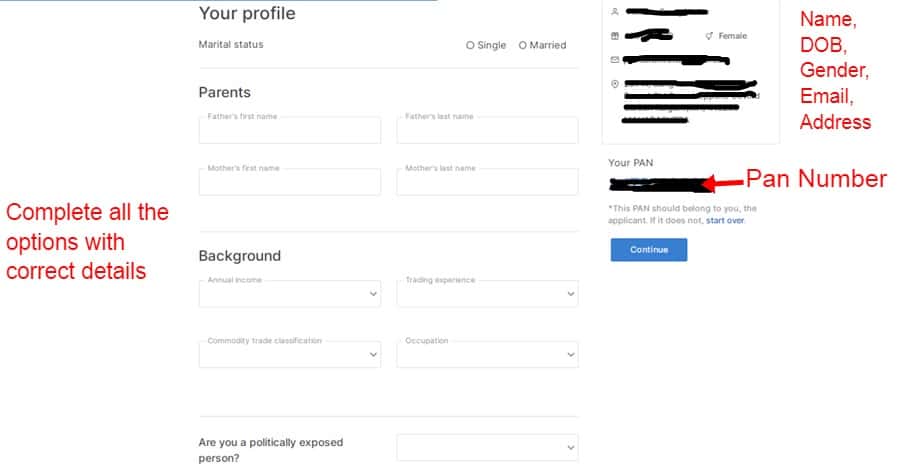 Step 8 Link your demat account with Bank Account
Keep ready your Bank name, Branch IFSC code, Branch MICR code, Bank account number.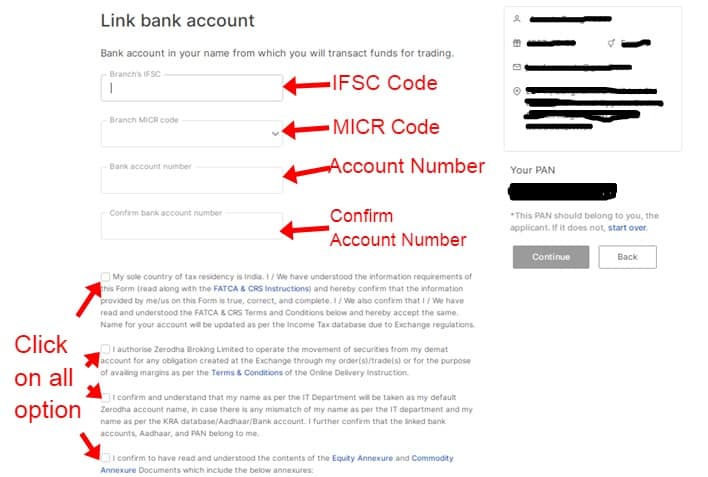 Step 9. Your Photo Verification with Webcam
Open your camera
Write Digital code on White paper.
Show your face to camera with white paper.
Ensure that code and your face clearly visible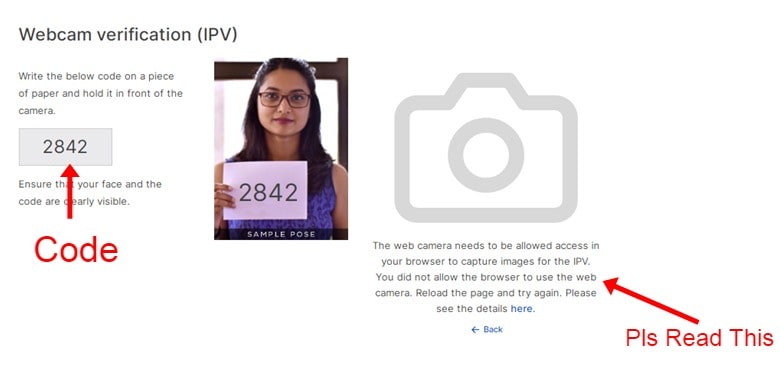 Step 10. Document Submission
A photo copy or scanned copy required.
Cancelled cheque (Your name required on cheque) or bank statements (Account number and IFSC code shows)
Income Proof (Only required for F&O and MCX trading). Not required for only buy and sell equity stocks.
Signature on white paper.
Pan card copy.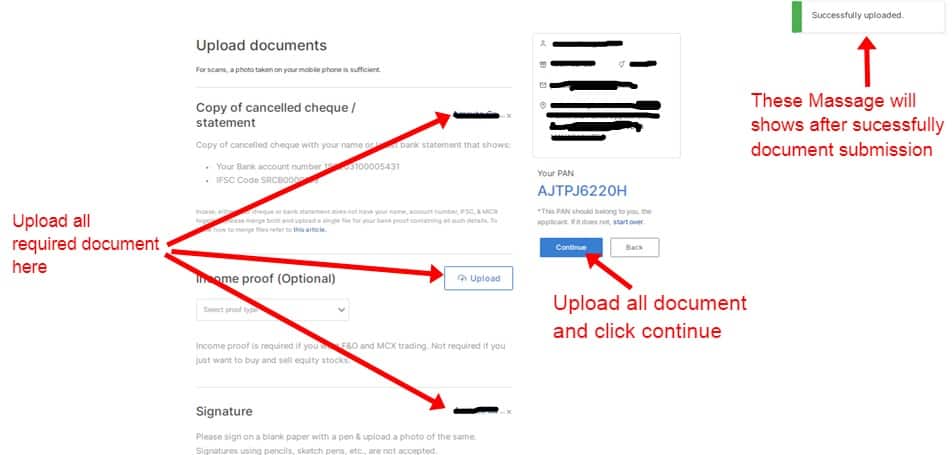 Step 11 Last Step (Esign for NSDL)
Just follow below steps. There 5 simple steps in 11 level.
1st Step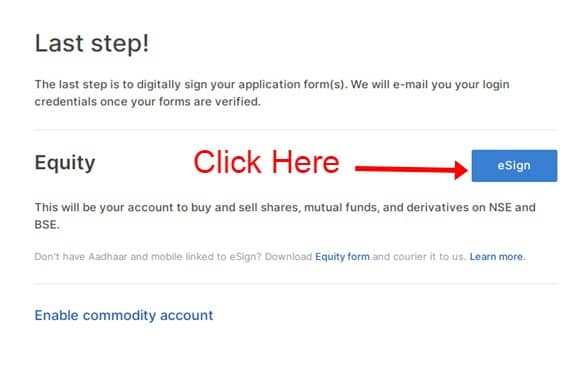 2nd Step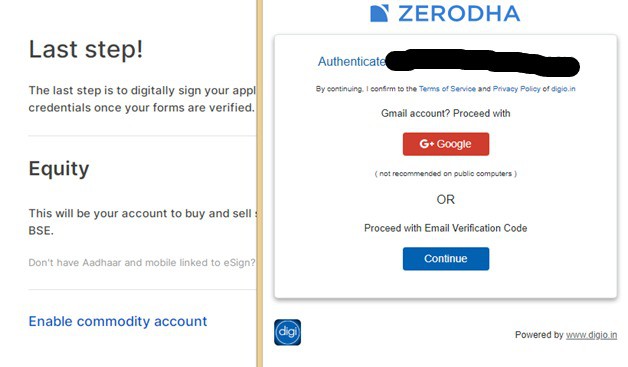 3rd Step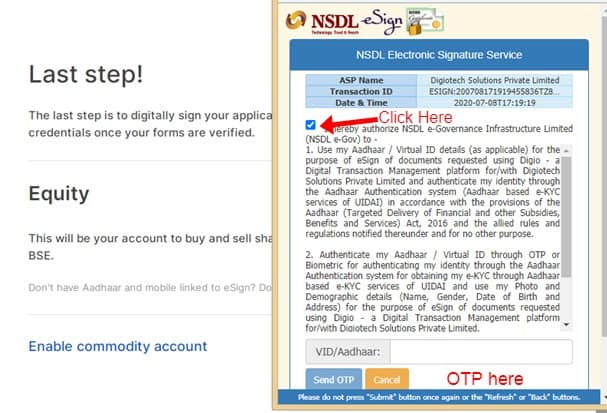 4th Step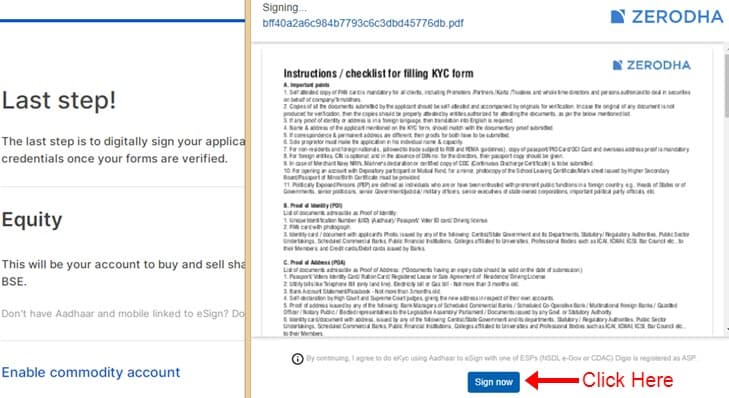 5th Step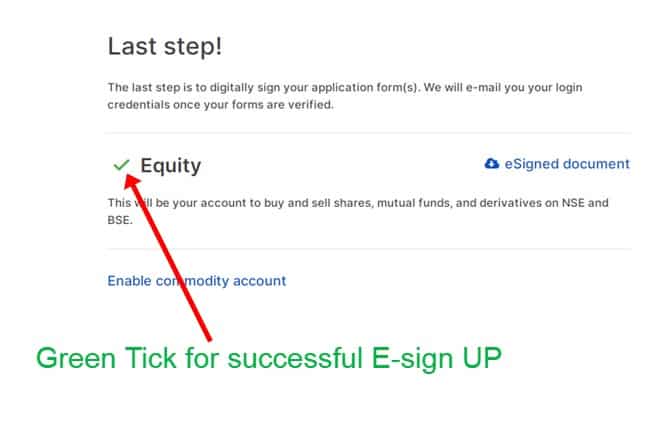 Big Congratulations
You have successfully open Zerodha Demat Online Account. Pls wait for 24 to received login details and your Demat account welcome massage.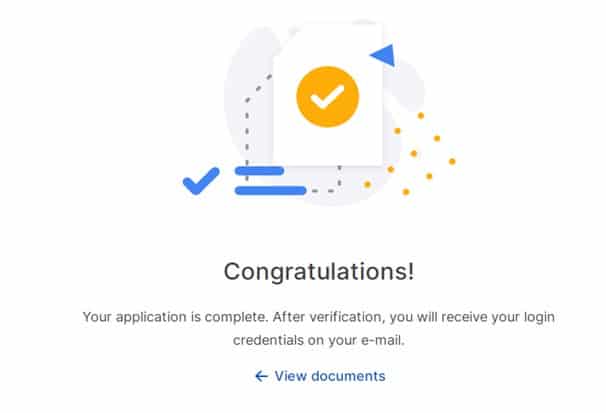 More Useful Articles on Zerodha