Kite is Zerodha's own online trading platform, built in-house, an intuitive, light-weight and powerful mobile app, available for Android and iPhone. The app is only 10.6 MB in size, making it extremely light-weight, with the average app from stockbrokers being 36MB and 55MB in size.
It is extremely simple and easy to use, with a simple black and white UI (user interface), equally good for beginner-level and advanced traders, complete with full market-watch and extensive charts, containing over 100 indicators, loaded with useful features.
These features include multilingual trading, the app offering 11 regional languages; a responsive design, making it function smoothly and ideally on cell phone web browsers; single-click fund transfer and withdrawal capabilities.

| | |
| --- | --- |
| Total Installs | 5,00,000+ |
| Available Versions | Android and IOS |
| Kite App Size | 6.5 MB |
| Overall Rating | 4-STAR, from 20,000+ users. |
Zerodha Discount Stock Broker.
Zerodha, founded in 2010, is a discount stock broker, offering low brokerage, mutual funds, and depository services. Their website provides a brokerage calculator, which helps in calculating brokerage and other charges pertaining to all your trades.
Zerodha has made quite a name for itself in the Stock Broking industry, offering a number of online initiatives, initiatives which have been adopted by the stockbroker. Zerodha is currently India's most innovative stockbroker, investing heavily in technology, making investing and trading cheaper, faster, safer and more convenient. Zerodha currently has over 1.5 lakh customers, with over 100 franchises distributed over 70 cities.
Zerodha Kite Mobile Trading App Additional Features.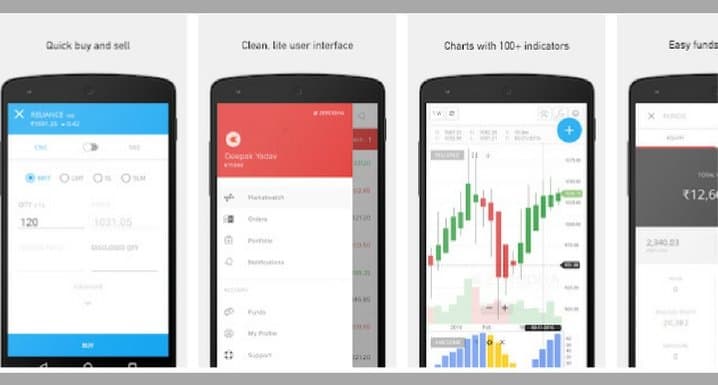 The different kinds of charts are extremely useful, giving the user the option to choose frequency and time range, providing flexibility, the flexibility that can be used to perform fundamental and technical analysis according to the users' preference. These charts include Baseline Delta, Mountain, Hollow Candle, Line, Colored Bar, Bars, and Candle Stick.
For the purpose of technical analysis, users' themselves are capable of adding a variety of technical indicators, including Stochastics, Moving Average, MACD, Darvas Box, Bollinger Bands and Alligator.
The app also allows users to transfer funds and manage them, making a variety of different kinds of fund transfers available.
The market watch makes scrips available, scrips that can be deleted simply by swiping.
Drawing tools are also available, helping to take the users' analysis into more depth and detail.
The app also allows users to view the current positions of their stocks and profits in the Portfolio section
Users can turn on alerts and notifications according to their preferences, helping them experience the app in a personalized way. These alerts can generate a notification of, for example, the time that a stock price goes beyond a specified percentage or level.
Kite allows its users to buy and sell with a single click.
It works well even when internet bandwidth is low. The speed may be compromised a little, but the app is still perfectly usable, and trades can easily be placed.
The app offers the option of placing stock loss market orders, cover orders, positional orders, and bracket orders.
Zerodha Kite Mobile Trading App Drawbacks
The payment gateway can also undergo improvement.
It doesn't have a feature for margin calculation.
It doesn't allow investment in mutual funds.
The customer can not set SMS alerts for price trigger etc.
Take a Look