Today's world is on Internet, Mobile, Laptop. The world is now closer to one another. Trading needs to think twice and some Things to be Considered to Select StockBroker before selecting a stockbroker for online trading account opening. 10 real parameter which actually helps to select stockbroker. Some stockbroker offers low brokerage while some offer high brokerage which stock broker is best for me.
You can buy or sell Stocks, Commodities, Currency with one click at home due to technological advancement. You need a broker to buy and sell in the stock market. Without a stockbroker, you can not make any market transactions and broker needs to be registered with Sebi. The 2-minute delay from stockbroker can cause a big loss to you because of Prices vary sharply in the stock market. It is very important to have a good service delivery broker. Due to poor service of a stockbroker, you may have a lot of trouble.
Broker Experience and Trustworthiness.
The Bombay Stock Exchange is Asia's oldest stock exchange and there are a lot of stock brokers in India providing stockbroking facilities for a long time to their clients. If possible, please select stockbroker with good experiences. Before selecting the broker, Find out what their reputation is in the market. Read online reviews written by the customer. Talk to your friends or relatives about the stockbroker and ask their experiences.
Broker Office.
If the broker's office is near your to your home then it is better. You can also do online trading in the office or branch of a stockbroker. Nowadays all the tasks like account opening, document verification, etc are done on phone or online. This is the reason that the broker is not required to be close to your home. There is no concern if the broker's office is not near to your home.
Registration and Membership with SEBI.
So many segments are available for trading such as Currency, Equity, Commodity, Derivatives. please check that stockbroker is registered in the all four exchange NSE, BSE, MCX, NCDEX or not. You can also check the registration number of the broker by visiting their website.
Most Important Brokerage Charges.
Lowering brokerage charges is very important for you if you are trading intraday. Discount Broker charges brokerage on per order while Full-service broker charge percentage on the total turnover of order. Low brokerage can save a lot of money.
Example: Mr. Vijay buys 10,000 shares of reliance at Rs. 100 each.
Brokerage charges at Discount Broker: Rs.20 or Rs.15 (as per broker) per order. The total turnover of order is Rs.10,00,000.
Brokerage charges at Full-service Broker: The brokerage will be Rs.500 if we Suppose brokerage rate is 0.05% of turnover.
Full-Service Broker or Discount Broker.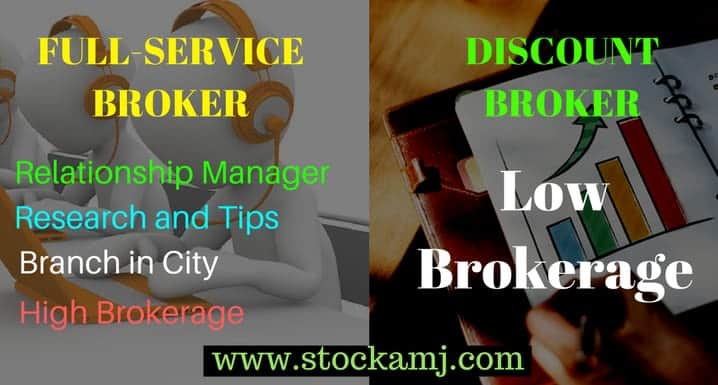 The Full-Service Broker provides a variety of facilities such as Relationship Manager, Research, and Tips, News & Notification, But this broker charges some percentage on the turnover of order while the goal of the discount broker is to provide minimum brokerage Charge but it does not provide any other facility.
Best Full-Service Broker: Angel Broking
Best Discount Broker: Zerodha Securities

Trading Platform.
It is very important for the trading platform to be fast and cutting-edge. Open a trading account with those stockbrokers, which provides the trading platform for a website, laptop, and mobile. There are many trading platforms available in the market, so take the demo of the platform before opening the account.
Read More:
Performance of Trading Ideas and Research Tips.
If you are not an expert in the market study and want to trade on the broker's advances, ask about the performance of the advisory for the last 6 months, and you will know the quality of their advisory.
Apart from the brokerage charge, there are many hidden charges like call-n trade, Physical contract note, Minimum Account balance, AMC, DP Transaction Charges etc. please take all the information about hidden charges.
Depositing and Withdrawing Fund Process.
Check how much time your broker takes to transfer funds and how many banks are connected to it. Many brokers take only 1 day to transfer funds from trading account to bank account and instant from bank account to trading account. It may be that you have to pay some money to transfer fund. A broker like ICICIDIREC, HDFC Securities, Axis Direct offers a 3-in-1 account.
Customer Care Support
Customer Care is the most important department in the client's perspective. Once you open the account, you have to call customer care several times for any query related to the product and Responsive customer care may help you lots.
More Useful Article