Yes Bank is coming up with an FPO after a long pause in the market due to COVID-19. In this piece of information, we will be providing you a complete insight of the said FPO.
We will take a detailed look into the strengths, weakness, objectives of the FPO, crucial dates and other information that will come in handy for anyone who is planning to invest in it.
First of all, let's take a look at the time line of the Yes bank FPO. The critical dates here are the opening of FPO issue date, Closing of FPO issue Date, allotment of FPO issue date and Listing of FPO issue date.
Yes Bank FPO Listing Details
| Milestone | Date |
| --- | --- |
| FPO issue open | 15th July 2020 |
| FPO issue closes | 17th July 2020 |
| Allotment finalization date | 22nd July 2020 |
| Initiation of the refunds | 23rd July 2020 |
| Shares will be credited in the demat account on | 24th July 2020 |
| FPO will be listed on the market on | 27th July 2020 |
Yes Bank FPO Details
| FPO Issue Head | FPO Issue Information |
| --- | --- |
| Category of FPO | FPO |
| FPO Issue Type | Book built Issue FPO |
| The size of FPO issue | ₹14,983.33 Cr – ₹14,984.62 C |
| Face value of each shore | ₹ 2 per equity share |
| FPO issue's price | ₹ 12 to ₹ 13 per share |
| FPO discount(if any) | ₹ 1 discount for employees |
| Market lot size | 1000 |
| Minimum order QTY | 1000 |
| Maximum Retail QTY | 15000 |
| Promoter's holding before FPO | No holdings |
| Promoter's holding before FPO | No holdings |
| IPO Listing will be on | BSE, NSE |
| BSE code | 532648 |
| NSE code | YESBANK |
About the Company Yes Bank Ltd
Yes, the Bank was incorporated in the year 2004, and it falls under banking and financial sector. It is considered as one of the largest private sector banks in India. Rana Kapoor established it.
After the incorporation, the Bank has grown exponentially, offering wide-ranging services in the banking sector with various financial products and services.
The Bank strives to deliver quality services to its customers that range from corporate clients, retail clients a large number of MSMEs (Micro, Small and Medium Enterprises).
Yes, Bank is the business from more than 15 years and specializes in merchant banking, investment banking, brokerage businesses through Yes bank securities and asset management Yes asset management LTs.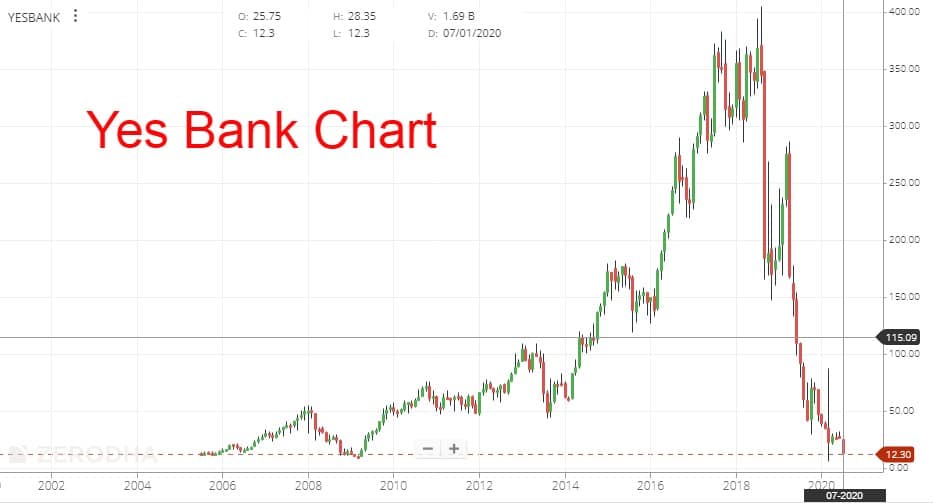 It also offers full-suite digital services across all the spectrum through its well-established network. So it is safe to call Yes bank a very compelling banking institution in the nation.
Yes, Bank has around 1135 branches across India, covering all the 8 UTs and 28 states. Throughout its promising career, it has been recognized with many prestigious awards and honours.
But, the past year or two has been quite turbulent for the Yes Bank. Although it is one of the largest private sector banks in India, it is facing some serious financial troubles.
The reason behind these troubles is the high rate of failure in repayments of loans and mounting numbers of NPA (non-performing assets). The percentage of NPA of Yes bank increased by 3.22% and reached a level of 16.80 %.
The Yes bank's deposits fell by Rs 1,05,364 crore, almost 53.7 per cent, while advances of Yes Bank fell by 29 % to Rs 1,71,443 crore.
Owing to these losses, Bank is focusing more on reducing the number of its NPAs and bad loans to stay afloat in the volatile market.
To solve these issues and support the Bank in these difficult times, SBI has pumped a significant amount. It has bought a 49% stake in the Yes bank.
Even after taking multiples steps and getting a booster fund via SBI, the financial problems with Yes bank are still far from over.
The primary reason for raising the FPO is to solve this financial woos and help the Bank stabilize economically.
Let's take a good look at financial performances and results of Yes bank
Yes Bank FPO Financials
| | | | |
| --- | --- | --- | --- |
| Yes Bank Ltd FPO Financials | 31-Mar-2020 | 31-Mar-2019 | 31-Mar-2018 |
| Total Assets | ₹257832.16 Cr | ₹380859.61 Cr | ₹312449.65 Cr |
| Total Revenue | ₹10335.06 Cr | ₹14488.00 Cr | ₹13032.32 Cr |
| Net Profit/Loss | ₹(16432.59) Cr | ₹1709.27 Cr | ₹4233.22 Cr |
Yes Bank Contact Information
Contact Details
Registrar
YES BANK Ltd
YES BANK Tower,
IFC – 2, 15th Floor,
Senapati Bapat Marg,
Elphinstone (W),
Mumbai 400 013, India.
KFin Technologies Private Limited
Selenium, Tower B,
Plot No. 31 & 32
Financial District,
Nanakramguda, Serilingampally,
Hyderabad 500 032,
Rangareddi Telangana, India
Phone: (22) 3366 9000
Phone: +91 40 6716 2222
Email:
yestouch@yesbank.in
Email:
einward.ris@kfintech.com
Website:
www.yesbank.in
Website:
www.kfintech.com
Objectives of Yes Bank FPO Issue
Yes Bank is currently facing many economic problems. Amid these problems, they have come with their FPO for raising necessary funds. Yes Bank has decided to issue FPO to fulfill following financial goals
To acquire sufficient capital required to support the growth and expansion of the Bank
To improve Bank's capital adequacy and solvency position.
Now let's take a look at the strengths and weakness of the mentioned FPO.
Strengths
A robust It platform that helps Bank to deliver quality digital services to its customers
A team of experienced leaders that can steer the Bank during any crises
Focus on small and medium enterprises of India
A diversified revenue generation system as a result of a variety of services and products.
A commanding presence throughout the nation with more than 1130 branches.
Weaknesses
High regularity compliance
The rising number of Non Performing Assets
Operational threats
Highly concentrated loan offering to few individuals
Final Verdict
After the detailed analysis of various factors pertaining to the performance of the FPO, we can say that the company has a robust infrastructure and growth potential. It has out-performed the competitors in the past.
But due to recent financial crises and rising NPA, many questions arise on the future growth potential of the Bank.
An investor can decide based on their risk appetite. Although we have tried to provide as much information to the readers as possible, a potential investor should do his/her own analysis before taking any decision in the matter.
FAQs for Yes Bank FPO
What is Yes Bank FPO?
Ans: This FPO offer by Yes Bank Limited. Bank planning to expand capital by Follow On Public Offer.
How do I apply for the Yes Bank FPO?
Ans: Anyone having demat account are eligible for application. There are two method available for application.
ASBA Payment Method: The net-banking facility available for online FPO application.
UPI Payment Method: By using UPI payment method for application process.
What is the Yes Bank FPO issue date?
Ans: Yes Bank FPO issue period is from 15 Jul 2020 to 17 Jul 2020.
What is the Yes Bank FPO allotment date?
Ans: Allotment date is 22 Jul 2020 and share will transfer to your demat account on 24 Jul 2020.
What if Yes Bank FPO Shares not allotted to me?
Ans: Suppose Yes Bank shares not allotted to you than refund will be credited to your linked bank account.
How to Apply Yes Bank FPO through Zerodha?
Ans: Zerodha customers can apply for Yes Bank through UPI's payment gateway by Zerodha Console. Pls follow Below steps.

1. login to console.zerodha.com
2. Portfolio<<IPOs
3. Get the list of current listed IPOs.
4. You can apply for an IPO online.
What is the Yes Bank FPO Listing date?
Ans: Listing date for this FPO is 27 Jul 2020.
Is there any other Yes Bank FPO Listing later this year?
Ans: There is no such information available regarding the further listing of Yes Bank FPO.
Will I get a discount if I am Yes Bank Employee?
Ans: 181,818,181 Shared offered for employee and employee will get ₹1 per share discount.
What is the Lot Size of Yes Bank FPO?
Ans: Minimum 1000 shares (1 lot) and maximum 15000 shares of lot size is available. One share price is ₹ 13 so 1 lot of 1000 shares will be ₹ 13000.
What is the face value of Yes Bank FPO?
Ans: Face value is ₹ 2 Per Equity Share.
What Yes Bank FPO symbols in NSE & BSE?
Ans: NSE: YESBANK, BSE: 532648
More Article on IPO