The IPO market is all set to open after a long break of 4 months. It will be beginning with Rossari Biotech IPO. This IPO will open for subscription on July 13th, 2020. Although this IPO was set to open in March, the board decided to postpone the launch date.
The reason was to avoid any negative impact on the IPO due to the volatility in the market amid COVID crises. Although the market was operational, considering the country's economic situation, it would not be suitable for any company to tread in these unchartered waters.
Promoters were well aware of this fact, and that is why they decided to postpone
This is only the second IPO after the SBI card's IPO that listed on the market in March 2020. In a nutshell, this IPO will give a clear idea about how ready the market is to take the risk.
That is the reason this IPO has built up a lot of hype around itself before listing. Every potential investor is looking for critical information and a thorough analysis of this IPO.
In this piece of information, we will explore every aspect of the IPO, analyze it, and decide whether it's suitable for you. We have tried our level best for the collection of as much factual data as possible to draw a clear picture of the company and how it can perform in the longer run.
Let's get going with some necessary details
Rossari Biotech IPO Details
| | |
| --- | --- |
| Issue opens | 13 – 15 July 2020 |
| Price Band | ₹ 423 – ₹ 425 per share |
| Fresh issue | ₹ 50 crore |
| Offer For Sale | 10,500,000 shares |
| Total IPO size | ₹ 494.15 – ₹ 496.25 crore |
| Minimum bid (lot size) | 35 shares |
| Face Value | ₹ 2 per share |
| Minimum order | 35 shares (₹14,875) |
| Maximum order | 455 Shares (₹193,375) |
| Listing On | NSE, BSE |
Objective of Rossari Biotech IPO
The company will be looking forward to utilize the fund raised through IPO in the following manner:
To fulfill capital funding requirements
Clearing existing debts
Other corporate purposes
There is one thing that is noteworthy about this IPO. As there are no external investors in this company, Edward Menezes and Sunil Chari will hold the majority stake after this IPO.
Both these promoters are planning to sell 52,50,000 shares, each taking the total number of shares offered to 1,05,00,000.
Rossari Biotech IPO Timetable
| | |
| --- | --- |
| IPO Opening Date | 13 Jul 2020 |
| IPO Closing Date | 15 Jul 2020 |
| Final Allotment | 20 Jul 2020 |
| Refunds | 21 Jul 2020 |
| Transfer of shares to Demat accounts | 22 Jul 2020 |
| Listing Date | 23 Jul 2020 |
Rossari Biotech Contact Information
Contact Details
Registrar
Rossari Biotech Limited
201-A & B,
Ackruti Corporate Park,
LBS Marg, Next to GE Gardens,
Kanjurmarg (W),
Mumbai – 400 078
Link Intime India Private Limited
C-101, 1stFloor, 247 Park,
Lal Bhadur Shastri Marg,
Vikhroli (West)
Mumbai 400083
Maharashtra, India
Phone: +91 22 6123 3800
Phone: +91 22 4918 6200
Email:
info@rossarimail.com
Email:
rossaribio.ipo@linkintime.co.in
Website:
www.rossari.com
Website:
www.linkintime.co.in
Rossari Biotech Company's Niche
Rossari Biotech is in the business of manufacturing specialty chemicals that are used in wide-ranging products from poultry, animal feeding material, apparels, and FMCG(Fast Moving Consumer Goods). The company produces around 2000+ products for its' varied client base. These numbers suggest that Rossari Biotech surely commands a considerable hold in the market as it is involved in a variety of segments.
Apart from India, Rossari Biotech has operational units in more than 18 countries like Vietnam and Mauritius. This Global presence indicates that a company is in demand in local and international markets and has an excellent potential to grow significantly.
As per the company's data, it is the largest manufacturer of specialty chemicals for the textile industry in India
Let's take a look at the company's market share in various sectors
Specialty chemical for textile
With the massive number of products that stand around 1500, the company provides specialty chemicals for the entire textile industry as a whole. Its products are used at every stage in the textile industry, starting right from the fiber manufacturing, yarn manufacturing, fabric manufacturing, wet processing, and dying to garment manufacturing.
The share of revenue generated from textile specialty chemicals in the total revenue of the financial year 2020 stood 43.71%.
Personal care and home chemicals
This segment's contribution to the total revenue is 46.8%. The company manufactures a variety of products that are used in day to life ranging from ink, paints, dye, ceramic, water treatment chemical, soaps, and detergents. The number of such products is around 300. This clearly indicates the hold of the FMCG sector in the company is considerable.
Although the company is freshly venturing in this field after it acquired Lozalo in 2019, these products generated a healthy 9.48% of the total revenue in the financial year 2020.
The company manufactures animal health and nutrition products, including poultry feeding, supplements, pet grooming, and treatment material for infant and adult pets alike. The number of products stands at around 100.
Manufacturing Facilities of Rossari Biotech
The primary manufacturing unit of Rossari Biotec is situated in Silvassa in Dadra and Nagara Haveli union territory. The installed capacity of this manufacturing stands near 1,20,000 Million tons per annum.
The unit has a highly flexible production line that can easily produce versatile products like chemicals for animal nutrition, home care products, inks, dye pet animal care products, specialty chemicals for textile products, and other performance chemicals.
How the numbers add up?
The company's revenue is rising continuously from the last four financial years. The company's total revenue stood at ₹ 260 crore in F.Y. 2017, ₹ 300.4 crore in F.Y 2018, ₹ 517.1 in F.Y 2019, and ₹ 603.8 crore in F.Y 2020.
These numbers show that the revenue of the company has almost doubled in the last three years. Initially, it was the textile industry that would have a major chunk in the total revenue. But in the recent period, personal and home care productions have overtaken it. The business generated through these products has skyrocketed by 500%.
With improved capitalization, the company was able to double its net margin from 5.4% in the F.Y 2017 to 10.8 % in the F.Y 2020.
These numbers clearly indicate that top-level management is efficiently performing its duty and is committed to driving the growth of the company.
Should you go for Rossari Biotech, or should you avoid it?
The numbers mentioned above and the well-diversified portfolio in the different segments suggests that the company holds the high potential for future growth. Although two segments, Textile specialty chemicals, and home care chemicals, often seem saturated, the management team stays highly committed to the development.
Moreover, the company's FMCG segment will drive the company's growth in the near future. The company is set to grow remarkably post the FMCG market revival once this COVID-19 pandemic ebbs out. When the demand for FMCG grows, Rossari Biotech will scale too.
The other factor that must be analyzed before applying for an IPO is the company's balance sheet. In the case of Rossari Biotech, the company's balance is sheet is remarkably strong! The debt to equity ratio is around 0.23 as of March 31st, which is quite exceptional.
Apart from this, the company is currently engaged in expanding the capacity of its Dahej unit in Gujarat. The goal is to improve its capacity to 1, 32,500 Metric Tons Per Annum (MTPA). The goal behind this expansion is to target the global market via exports. This will definitely benefit the company's near future.
The striking positive feature of this company is its management. Although the company has grown significantly in recent years, management has kept their feet on the ground. They have not obtained any external debts or funding to support the operations of the company. There are no red flags about the top brass and management taking excessive remunerations. This indicated that the management would maintain this line of operation even after its IPO launch.
The company's P/E ratio stands in the range of 31.97 to 32.12 when calculated per the price band of ₹ 423-₹ 425 per share. This P/E ratio is quite expensive when compared to its peers like Galaxy Surfactants. But the Return on Net worth (RONW) is 31.79%, which is relatively high. The reason behind this high RONW is good profitability and a robust balance sheet. Its other peers like Vinati organics and Aarti Industries have similar RONW.
All-in-all, the company has a healthy balance sheet and potential to grow in the future too.
Rossari Biotech IPO Listing Details
| | |
| --- | --- |
| Listing Date | 23 Jul 2020 |
| NSE Symbol | ROSSARI |
| BSE Symbol | 543213 |
| Listing Group | B |
| IPO Price | ₹ 425 per equity share |
| Face Value | ₹ 2 per share |
Rossari Biotech Performance on Listing Date
| | | |
| --- | --- | --- |
| Exchange | BSE | NSE |
| IPO Price | ₹ 425 | ₹ 425 |
| open | ₹ 670 | ₹ 669.25 |
| High | ₹ 804 | ₹ 803 |
| Low | ₹ 663.55 | ₹ 664 |
| Close | ₹ 742.35 | ₹ 741.65 |
| 1st day volume | 3,026,799 | 35,781,622 |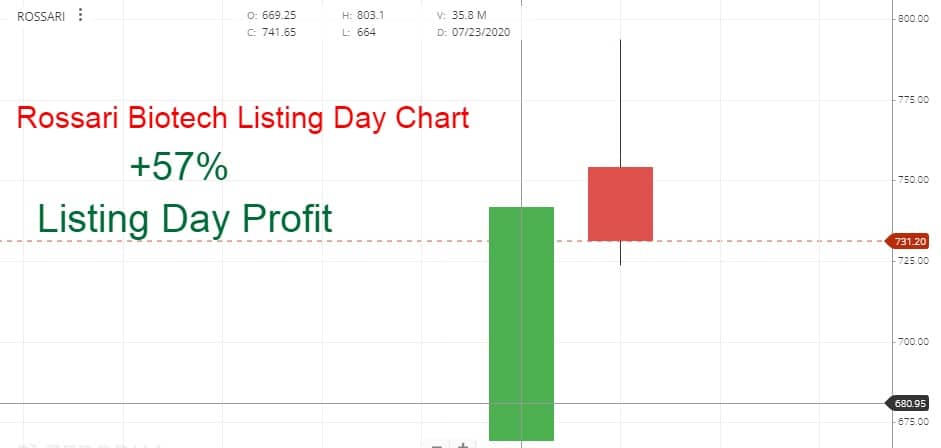 Conclusive Thoughts
All of the above numbers clearly indicate one thing. The Rossari Biotech IPO has a relatively safe margin, and it will definitely command a premium price in the grey market. This will surely drive the demand for IPO, and the subscribers will fall in line to get their hands on this IPO.
Looking from here, the company surely set to grow in the longer term. After a thorough analysis, we see a good listing gain on the IPO.
Although we are positive about this Rossari Biotech IPO, we will caution the potential subscribers to perform their own analysis before taking any decision. The final decision of whether to apply or not for this IPO solely depends on the risk appetite of the subscriber.
If you are planning to invest in the Stock market via any product like IPO, equity, Mutual funds, or SIPs, do visit our website or feel free to reach us. We will be so glad to assist you in the best possible way!
FAQs for Rossari Biotech IPO
What is Rossari Biotech IPO?
Ans: This IPO offer by Rossari Biotech Limited. company planning to expand capital by listing on BSE & NSE.
How do I apply for the Rossari Biotech IPO?
Ans: Anyone having demat account are eligible for application. There are two method available for application.
ASBA Payment Method: The net-banking facility available for online IPO application.
UPI Payment Method: By using UPI payment method for application process.
What is the Rossari Biotech IPO issue date?
Ans: Rossari Biotech IPO issue period is from 13 Jul 2020 to 15 Jul 2020.
What is the Rossari Biotech IPO allotment date?
Ans: Allotment date is 20 Jul 2020 and share will transfer to your demat account on 22 Jul 2020.
What if Rossari Biotech IPO Shares not allotted to me?
Ans: Suppose Rossari Biotech shares not allotted to you than refund will be credited to your linked bank account.
How to Apply Rossari Biotech IPO through Zerodha?
Ans: Zerodha customers can apply for Rossari Biotech through UPI's payment gateway by Zerodha Console. Pls follow Below steps.

1. login to console.zerodha.com
2. Portfolio<<IPOs
3. Get the list of current listed IPOs.
4. You can apply for an IPO online.
What is the Rossari Biotech IPO Listing date?
Ans: Listing date for this IPO is 23 Jul 2020.
Is there any other Rossari Biotech IPO Listing later this year?
Ans: There is no such information available regarding the further listing of Rossari Biotech IPO.
Will I get a discount if I am Rossari Biotech Employee?
Ans: No Information
What is the Lot Size of Rossari Biotech IPO?
Ans: Minimum 35 shares (1 lot) and maximum 455 shares of lot size is available. One share price is ₹ 425 so 1 lot of 35 shares will be ₹14,875.
What is the face value of Rossari Biotech IPO?
Ans: Face value is ₹ 2 Per Equity Share.
What Rossari Biotech IPO symbols in NSE & BSE?
Ans: NSE: ROSSARI, BSE: 543213
More Article on IPO