LIC IPO has potential of become a India's largest IPO. The Government of India-owned investment corporation is an Indian state-owned insurance group.
Life Insurance Corporation of India was the first insurance company in India to be established by the Government of India on September 1, 1956. Life Insurance Corporation of India was the first insurance company in India to be established by the Government of India on September 1, 1956.
When the insurance industry in India was nationalized, more than 2 insurance companies and provident societies merged and the Life Insurance Corporation of India was formed.
More than 290 million policy holders nd more than 26 millions claims settled by LIC. Up to 2019 LIC sold ₹21.4 million policies within 1 year of time and company had ₹28.3 trillion life fund.
LIC of India is biggest company in financial sectors of India. Headquarters located in Mumbai. Offers multiple product like Life insurance, health insurance, investment management, banking, mutual fund. As of Mar 2019 nearly 111,979 employees works for Life Insurance Corporation of India.
Financial Results for 2019: Revenue of ₹337,000 crore and Operating income ₹337,000 crore, Net income ₹29,956 crore, Total assets ₹3,111,847 crore. Post IPO Government of India owned 100% stake in LIC. Website: www.licindia.in
Key Points
Government owned company.
Highly trusted and reputed life insurance company.
Multiple Product as per customer requirements.
Millions of sales agents works for LIC.
NCDEX IPO Issue Details
| Issue | Details |
| --- | --- |
| Name | LIC |
| Issue Opens | 2020 |
| Issue Closes | 2020 |
| Face Value | ₹ [●] per equity shares |
| Issue Size (crore) | ₹7,000 Cr to ₹1,00,000 cr (Approx) |
| Fresh Issue | |
| Price Band | ₹ [●] to ₹ [●] Per share |
| No. of shares on offer (crore) | |
| QIB (%) | 50% |
| NII (%) | 15% |
| Retail (%) | 35% |
| Minimum lot size (no of shares) | |
| Employee Discount | |
Shareholding Pattern (%)
| | Pre-Issue | Post-Issue |
| --- | --- | --- |
| Promoter Group | 100.0% | |
| Public/Other | 0.0 | |
LIC Financial Details (INR crore)
| ₹ Crore | FY17 | FY18 | FY19 | H1 FY2020 |
| --- | --- | --- | --- | --- |
| Total Income | | | | |
| Total Expense | | | | |
| Profit After Tax | | | | |
| Earnings per share (EPS) | | | | |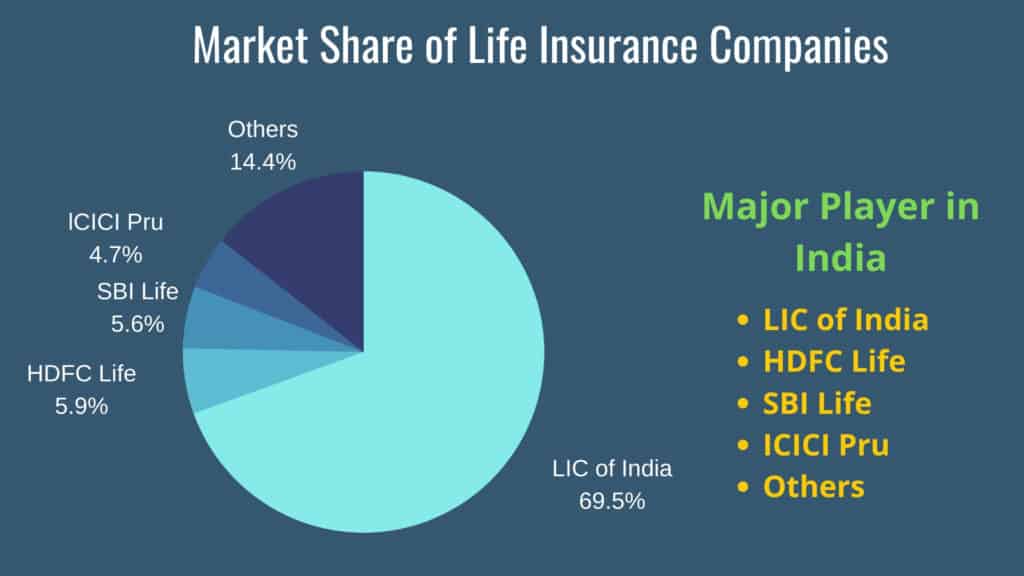 LIC Company Contact Information
Listing Time Table of LIC
IPO Opening Date: Not Yet Announced.
IPO Closing Date: Not Yet Announced.
Final Allotment: Not Yet Announced.
Refunds: Not Yet Announced.
Transfer of shares to Demat accounts: Not Yet Announced.
Share Credit to Demat Account: Not Yet Announced.
Listing Day LIC Performance.
| | | |
| --- | --- | --- |
| | NSE | BSE |
| Listing Date | 2020 | 2020 |
| IPO Price | ₹ [●] | ₹ [●] |
| Open | ₹ [●] | ₹ [●] |
| High | ₹ [●] | ₹ [●] |
| low | ₹ [●] | ₹ [●] |
| Close | ₹ [●] | ₹ [●] |
| Volume | | |
| Listing Day P/L | | |
Analyst Reviews.
Subscription Details
| Category | Offered Shares | DAY 1 | DAY 2 | DAY 3 | DAY 4 |
| --- | --- | --- | --- | --- | --- |
| QIB | | | | | |
| NII | | | | | |
| Retail | | | | | |
| Total | | | | | |
LIC IPO Lead Managers
| Lead Managers | Lead Managers |
| --- | --- |
| | |
| | |
| | |
| | |
| | |
| | |
Company Promoters and Boards of Directors
| | |
| --- | --- |
| Chairman: M R Kumar | Mr.Rajkumar |
| Mr.T C Suseel Kumar | Mr.Mukesh Gupta |
| Mr.Vipin Anand | |
LIC of India Company Overviews
LIC of India, the only Public Sector Insurance Company in India, was founded on 1st September 1956. On this date, the Parliament of India passed the Insurance of India Act. The goal of this act was to nationalize the Insurance Industry in India by merging around 245 insurance companies and provident societies.
LIC of India started its business with just over 300 offices, 5.7 million policies and the fund of INR 45.9 crores, grew to a massive 350 million policies and the fund of INR 8,000 crores at the end of 20th century.
After the liberalization in the Insurance sector by the Government of India in August 2000, the company has shown phenomenal growth. The CAGR on Premium received has been around 20% throughout the first and second decade of the 21st century.
LIC Presence in Country
Headquarter of LIC is in Mumbai, Maharashtra. It has eight zonal offices in Delhi, Mumbai, Hyderabad, Chennai, Kanpur, Kolkata, Bhopal & Patna and 113 divisional offices. With more than 14 lakh agents and over 2000 branches spanning across the length and breadth of India, it is the largest Insurance Company in India. The company's motto is "Yogkshemam Vahamyaham" that literally means "Your welfare is our responsibility".
With its compelling presence and services, it has proven its motto to every word. As of 2019, the total life fund with LIC is INR 28.3 trillion, which is massive. It has around 290 million active policyholders.
LIC Awards
LIC was rated as the sixth most trusted service brand in India by Economics Time Brand Equity Survey in 2012. In its long run, LIC has been felicitated with numerous awards like
Golden Peacock Innovative Award 2011
MEIF Institutional Excellence Award 2012
Reader's Digest Trusted Award from 2006 continuously!
Goals of LIC
The primary goal of LIC is to provide affordable Life Insurance Policies to every section of society and offer them complete financial security either in case of death or any other circumstance by reaching to every corner of India included remotest rural areas.
The company is in the business from more than 50 years and this experience; along with the Government, holdings are the reason for the trust shown in it by the people of India.
LIC offers a wide range of end-to-end insurance products, as per the needs and goals of a vast and diverse customer base. LIC's plans focus on providing financial safeguard at an affordable rate and maximize the saving ability of the holders. In short, it acts as a trustee to the investments of the policyholders.
LIC of India strives to offer maximum benefits to its customers by catering to the varied insurance needs of its policyholders.
Executive Board Members
The Executive Board consists of Chairman, currently M R Kumar, and Managing Directors, Vipin Anand, T. C. Suseel Kumar, Mukesh Kumar Gupta and Raj Kuma.
As of 2018, LIC had 1, 11,979 employees out of which around 25,000 are women. It also has a massive network of around 15.5 lakh individual agents, 109 referral agents, 342 corporate agents, 7 114 Brokers.
There are a total of 22 departments in LIC, and every department is headed by the Executive Director.
List of 22 Departments of LIC
Department
Department
Department
1.Marketing
8.F&A
15.Actuarial
2.Bankassurance (B&AC)
9.IT/BPR
16.Chairman Sec
3.Corporate Communication
10.Inspection
17.F&A
4.Personnel
11.Investment
18.Micro Insurance
5.CRM
12.SBU/Estates
19.RTI
6.Direct Marketing
13.Investment Operations
20.HRD
21.Engineering
7.E&OS
14.P&GS
22.Vigilance
Digital Transformation
To cope up with the changing trends around the world, LIC of India has digitalized its setup completely. 'To provide easy access and simple operational facility to its millions of customers the initiated its LIC e-services portal. This portal has the data of more than ten crore policyholders of LIC of India and provides them with hassle-free access to all of them.
This has reduced the load on various offices of LIC as the almost every service is available online and the number of customers visiting LIC offices has reduced. A policyholder can access everything, ranging from Online Premium payment facilities, Policy Schedule, Policy status, Bonus status, Status of loans against policies, claim status, revival quotes, Premium paid certificate, Premium due to calendar, claim history, grievance registration, and other different services.
Holdings of LIC
LIC holds shares of numerous companies listed on Nifty and the amount totals to approximately INR 2.33 lakh crore.
Its major investments are in the companies like HDFC Bank, Bajaj Auto, Mahindra and Mahindra, ICICI Bank, Tata Motors, L&T, HDFC, Wipro. Maruti Suzuki, Dr.Reddy, ITC, ONGC, RIL, and SBI.
Apart from these holdings, LIC has a major stake of 51% in IDBI, making it the only insurer to have its own bank! But as per rules, no insurer can hold more than 15% stakes in any company.
So in the near future, LIC of India will have to reduce its stake in IDBI.
Moreover, it has stakes in LIC Housing Finance Ltd, which has to be pared as no single company can be a promoter of two companies that carries out the same business.
Final words About IPO
All said and done; it is safe to assume that LIC one of India's largest and most trusted brands. Although numerous private sector companies are growing exponentially, it would be a massive challenge to catch up with the might of LIC of India. With around ten crore customer, around 15 lakh agents and 1, 11,000 employees, the company is a behemoth.
It has been a go-to option for the people of India from every section of the society for their financial security. With its money back and pension plans, LIC of India also offers a great alternative to the traditional FDs for those who are looking for a safe and secure investment with good returns.
From the current perspective, LIC looks strong and will continue serving the people of India, fully complying to its motto, "Ahanirsh Sevamahe."
FAQs for LIC IPO
1.What is LIC IPO?
Ans: This IPO offer by National Commodity & Derivatives Exchange Limited . company planning to expand capital by listing on nse and bse.
2.How do I apply for the LIC IPO?
Ans: Anyone having demat account are eligible for application. There are two method available for application.
ASBA Payment Method : The net-banking facility available for online IPO application.
UPI Payment Method: By using UPI payment method for application process.
3.What is the LIC IPO issue date?
Ans: LIC IPO issue period is from [●] to [●].
4.What is the LIC IPO allotment date?
Ans: Allotment date is [●] and share will transfer to your demat account on [●].
5.What if LIC IPO Shares not allotted to me?
Ans: Suppose LIC shares not allotted to you than refund will be credited to your linked bank account.
6.How to Apply LIC IPO through Zerodha?
Ans: Zerodha customers can apply for LIC through UPI's payment gateway by Zerodha Console. Pls follow Below steps
7.What is the LIC IPO Listing date?
Ans: Listing date for this IPO is [●].
8.Is there any other LIC IPO Listing later this year?
Ans: There is no such information available regarding the further listing of State bank of India IPO.
9.Will I get a discount if I am LIC Employee?
Ans: IPO details not yet announced.
10.What is the Lot Size of LIC IPO?
Ans: Minimum [●] shares (1 lot) and maximum [●] shares of lot size is available. One share price is ₹.[●] so 1 lot of [●] shares will be ₹.[●].
11.What is the face value of LIC IPO?
Ans: ₹10 Per Equity Share.
12.What LIC IPO symbols in NSE & BSE?
Ans: NSE: LIC & BSE: [●], Group: [●]