Zerodha is a discount broker, since 2015 this stock broker shows lot of progress in both its services and customer care. Zerodha trading platform options improve in many aspects like charts and analysis, safety, Order types, etc with the help of new technology & all these services for free. Zerodha is known for being one of the best trading platforms in India and is also considered the safest trading Platform.
Broker Information
Broker Type: Discount Broker
Founding Year: 2010
Users: 50,00,000+
Founder: Nithin Kamath, Nikhil Kamath
Website: www.zerodha.com
We will learn about all Zerodha Trading Platform options of available for traders & investor from Zerodha in detail.
1. Kite Connect API
Kite Connect API is a modern trading technology that allows you to trade by creating web based apps. You can use it according to your use by installing your own API just like Zerodha app. It gives you information about the fund, live share price, order history and how to place an order. You do not have to pay any money for this but if you have a very large number of users in the same API then Zerodha charges you.
Automated trade is possible with this service. Knowledge of coding and programming is required here.
2. Zerodha Kite Web Based
Zerodha Kite is a simple easiest website based trading platform, here you just have to log in to your account. No extra charges for this platform. The platform is the most powerful and most desirable.
Pros of web-based platform
work on the slowest internet.
Different types of modern charting available.
Quickest Order Placement.
Most commonly used by users.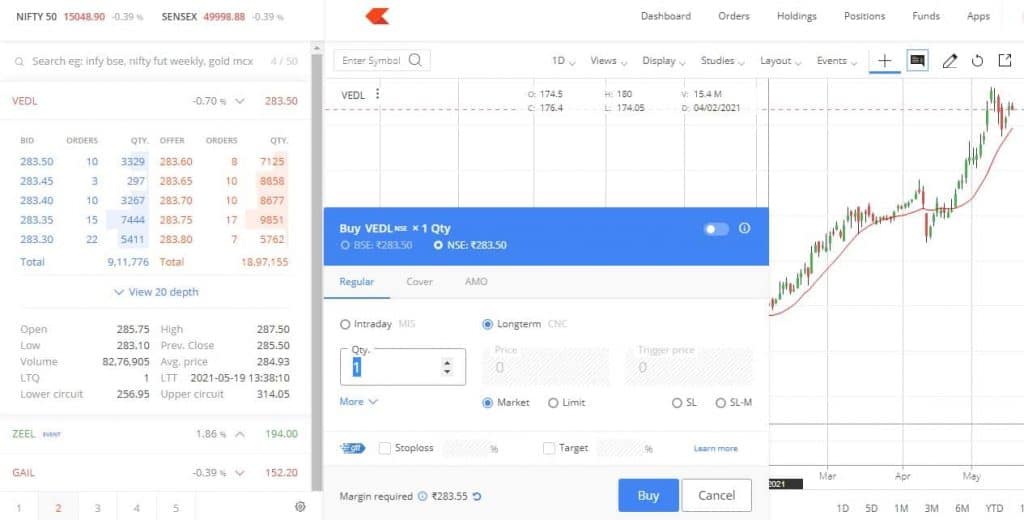 3. Zerodha Kite Mobile App
Zerodha Kite is the same platform as the website but it is equally powerful. You can also trade from mobile with the help of this app. This option is best for traders who can't sit in front of computers constantly. App is available in both Android & iOS version.
Features
All types of orders enable.
Over 100 signals and charting included.
Live Share Market Data.
All exchange included.
Feature & Options, Commodity option also included.
Only 10MB in size.
4. Zerodha Pi
Zerodha Pi is computer desktop based trading platform. This includes modern charting, analysis & scripting of each script. Customer need to download this software on computer from Zerodha website. Suitable for full time traders.
Features
The quickest and surest analysis.
More than 40 technical signals provide all kinds of facilities for sharing practice with less than charting.
The facility of market watch.
All types of personal aid services.
5. Zerodha Open Trade
Zerodha Open Trade, it shows the list of traders who have gained the most profit from using it. And through this list and trading updates the user of this option can well understand the skills and methods of trading. This is one of the best thing for a discount broker.
6. Zerodha Varsity
Through Zerodha Varsity customer can get the details of the stock market and all kinds of information. It's like a training where you are taught about the stock market. You can downloads PDF books, articles, videos, etc. are offered to learn the stock market and you don't have to have a trading account for this.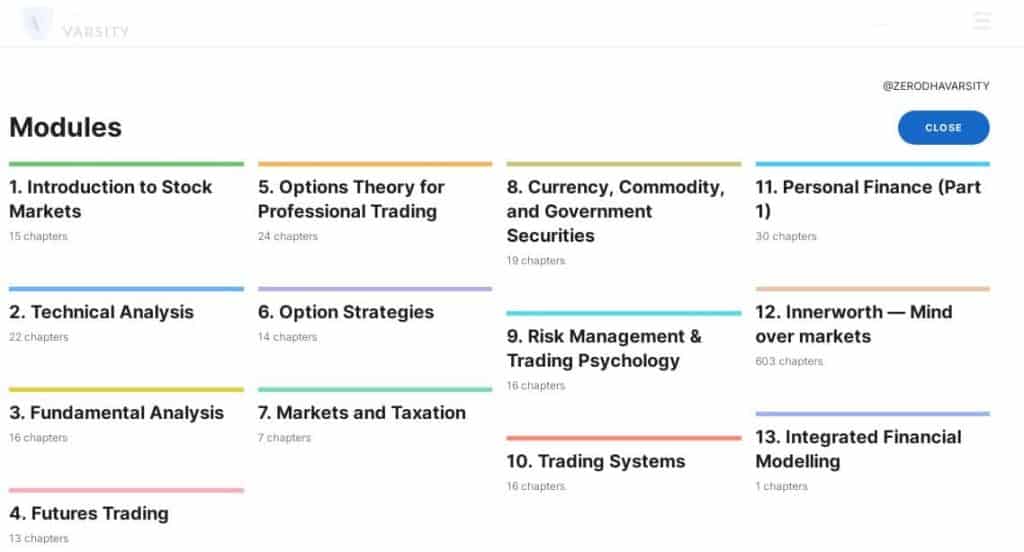 7. Zerodha Small Case
The Zerodha Small Case is for those people who are finding it difficult to understand the share market. Do not know how to find good shares and trade them properly so such a people needs a Experienced advisor help to choose good stocks.
Both Zerodha and Small Case together offer option to find out best opportunity in stock market. This facility is available only after succefully account opening with zerodha.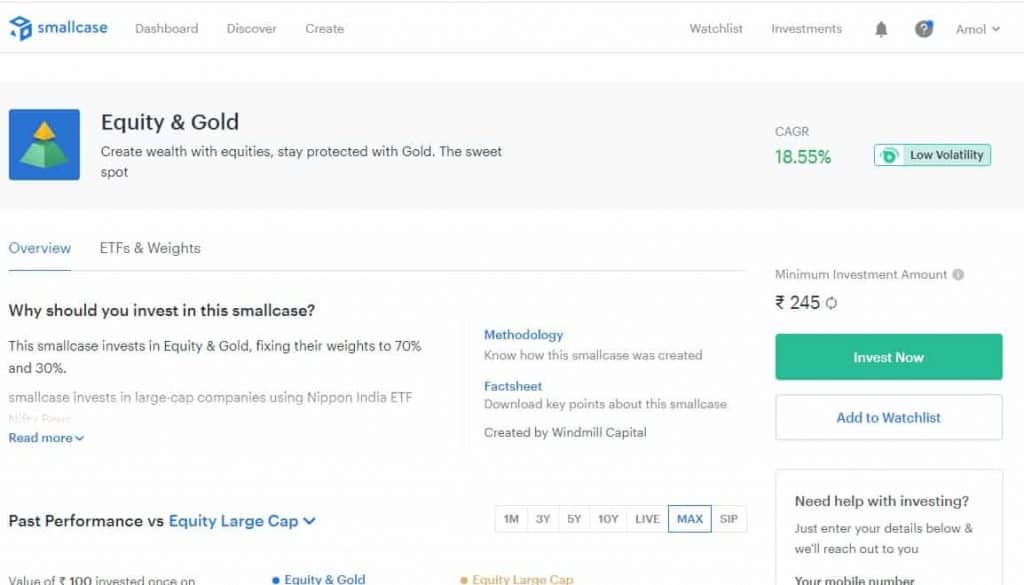 8. Zerodha Sentinel
Zerodha Sentinel is an Free real-time market alerts service which notifies you stock condition. With the help of this service user can make a quick decision. Available in 15 languages. And you can set it according to the stock and circumstances of your need.
Features
Notification available on kite, Email, Mobile
Real Time Alerts
20+ data points to adjust alerts
All stocks, Bonds, Commodities, Derivatives available to set alerts.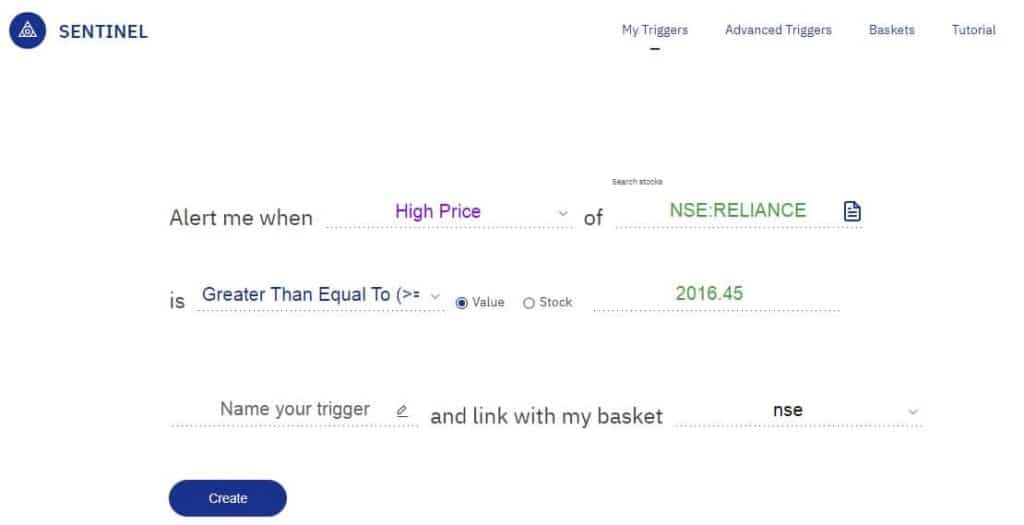 9. Zerodha Coin
Zerodha Coin is a service that allows you to invest directly in mutual funds. You can buy mutual funds yourself without any intermediaries. Mutual funds can be bought and sold in just a few clicks. For this you have to choose NAV Mutual Fund. You can also SIP in a mutual fund through Zerodha Coin.
Take a Look