SME IPO in India (Small & Medium Enterprises Initial Public Offer). The SME sector plays a crucial role in propelling India's Economy. SMEs account for around 45% of India's GDP and 40% of India's export. It is also one of the largest employers in India. Hence, SMEs are vital to India's development.
Although SMEs are so crucial for India's development, they face several issues and challenges.
These issues include:
Lack of an efficient workforce
Lack of cutting-edge technology
Lack of robust infrastructure
Lack of a powerful marketing platform
The core issue behind all these problems is an In-sufficient Fund. This is the biggest challenge faced by almost every SME in India when they face severe competition from wealthy Multi-National Companies.
To tackle these problems, NSE(National Stock Exchange) launched NSE Emerge, and BSE(Bombay Stock Exchange) launched BSE-SME. These platforms are launched to help SMEs raise necessary funds for their operations.
Let's Understand, What Is SME IPO in India?
SMEs can raise funds by releasing IPOs(Initial Public Offerings) on NSE Emerge and BSE-SME. IPOs are very popular among SMEs as they can quickly expand their thriving business using the funds raised by IPOs. IPOs released by SMEs are called SME IPOs.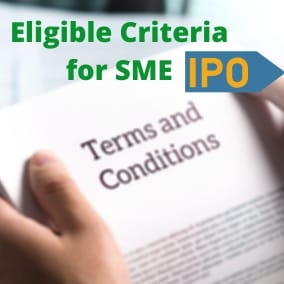 SMEs have to satisfy specific criteria before they can launch their IPO. Let's take a look at some conditions that SMEs need to fulfill:
The paid-up capital of an SME planning to launch SME-IPO must be between 3 crore and 25 crores. A company with paid-up capital more than 25 crores cannot be listed on SME platforms of NSE and BSE. They must be listed on regular platforms
Net worth and tangible assets should be at least three crores.
SEBI guidelines mandate that the minimum trading lot must between 100 to 10,000. It will depend on the price band of the issue.
There must not be any pending or accepted a wind-up application by the company.
Financial statement and a Website is mandatory for listing on NSE Emerge and BSE-SME.
The minimum numbers of the allottee must be 50 for when the IPO is listed.
As per section 124 of Companies Act 2013, a company must have distributable capital for at least two years out of the preceding three years.
The promoters who are promoting the IPO must have experience of a minimum of three years in the same field.
The applicant company should enter into a written agreement with NSE and BSE along with the compulsory facilitation of DEMAT trading.
A mandatory auditor's certification is required stating that the promoter or any of his/her holding companies has not defaulted in payment of interest.
Details of litigation cases filed against any promoter, director, or companies held by the promoter must be declared while applying.
SME IPO Vs Main-Board IPO
Parameters
SME Exchange
Main Board
Post-Issue Paid UP Capitals
Min Rs.1 Cr ; Max Rs. 25 Cr
Min Rs. 10 Cr
Minimum Allotees In IPO
50
1000
IPO Underwriting
Mandatory
(100% Underwriting with Merchant Banker underwriting 15%)
Non Mandatory
Track Record
Relaxed Track Record Norms
Staight Track Record Norms
Offer Document vetting
By Stock Exchange
By Sebi
IPO Application Size
Min Rs.1 Lac
Rs. 10000- Rs.15000
IPO Time Frame
3-4 Month
6-12 Months
Reporting Requirements
Half Yearly
Quarterly
SME IPO Top 5 Best & Worst Performance in 2019
Top five best performance SME's Listed in 2019
Company
Sector
Returns in %
against Issue Price
Evans Electrics
Trading
299
Artemis Electrical
Electrical Equipment
116
VR Films & Studios
Film Productions,
Distribution & Entertainment
86
Parshva Enterprises
Trading
80
Jonjua Overseas
IT-Software
67
*value as on 1 October Closing
Top five worst performance SME's listed in 2019
Company
Sector
Returns in %
against Issue Price
Suich Industries
Telecommunication Equipment
-64
Gleam Fabmat
Trading
-66
Ashapuri Gold
Trading
-67
Gian Healthcare
Pharmaceuticals & Drugs
-70
Mahip Industies
Paper & Paper Products
-80
*value as on 1 October Closing
Also Read: What is Cut-off Price in IPO?
What are the Benefits of Investing in SME IPO?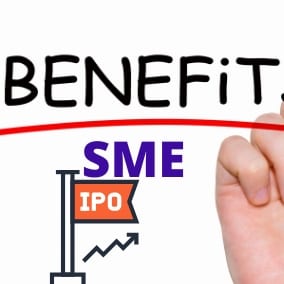 As discussed earlier, SMEs are a vital part of the Indian Economy. The government takes many steps to help them grow. So if an investor invests in a good SME after thorough research, they can earn a substantial profit through SME IPOs.
If you need any more information about Upcoming or latest SME IPO in India, you can reach us anytime on our website!
Note: We will help you out with investment in SME-IPOs too! Pls Write your Query In Below Comment Area.
More Article on IPO