Top 5 Indian Stock Broker Register Address and Contact Details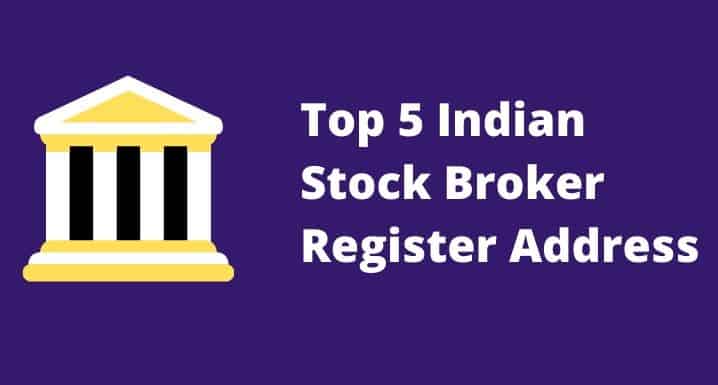 Below is the list of Top 5 Indian stock broker register office address and corporate office address. Customer Care, Support, Sales, Complaints etc all contact detail mention in the below list.
Zerodha, Angel Broking, Sharekhan, Upstox, 5paisa are India's top 5 best stock broker as per customer numbers.
Zerodha Register Address
Registered Address
Zerodha, #153/154, 4th Cross, J.P Nagar 4th Phase,
Opp. Clarence Public School, Bengaluru – 560078
Sale Office Address
Zerodha, #175/176, 2nd Floor, Next to Rainbow Hospital, Bannergatta Road, Bilekahalli, Bengaluru – 560076
Complaints
complaints@zerodha.com
DP related
dp@zerodha.com
Customer Care
+91 80 4040 2020
Review
Zerodha Reviews
Angel Broking Register Address
Registered Address
Corporate Office
G-1, Ackruti Trade Center, Road No. 7, MIDC, Andheri (E), Mumbai – 400 093
Tel: (022) 3083 7700.Fax: (022) 2835 8811
6th Floor, Ackruti Star, Central Road – MIDC, Andheri (E), Mumbai – 400093.
(022) 4218 5400 to 499 | 4000 3600
Support related queries
support@angelbroking.com
022-33551111 / 022-42185454
Investment Advisory
advisory@angelbroking.com
022-3935 7600 (Extn:6865) / 022-42185454
Partner Inquiry
partners@angelbroking.com
022 – 42185455
Complaints
compliance@angelbroking.com
Review
Angel Broking Reviews
Sharekhan Account Opening Charges
Registered Office
Sharekhan Limited,
10th Floor, Beta Building, Lodha iThink Techno Campus, Off. JVLR,
Opp. Kanjurmarg Railway Station, Kanjurmarg (East), Mumbai – 400042, Maharashtra
Tel: 022 – 61150000
Complaints
complaints: igc@sharekhan.com
Email
myaccount@sharekhan.com
Contact Number
022-25753200 / 022-25753500
Review
Sharekhan Reviews
5PAISA Register Address
Registered Office
Sun Infotech Park, Road No. 16V, Plot No.B-23 Thane
Industrial Area, Wagle Estate, Thane – 400604
Grievances
DP Related: Queriesdp.grievance@5paisa.com
BrokinG: grievance@5paisa.com
Email
support@5paisa.com
Contact Number
+91 89766 89766
Review
5paisa Reviews
UPSTOX Register Address
Registered Office
RKSV, 807 New Delhi House,
New Delhi 110001.
Corporate Office
Sunshine Tower, 30th Floor,
Senapati Bapat Marg, Dadar (W),
Mumbai – 400 013
Complaints
complaints@upstox.com / complaints.mcx@upstox.com
Inquiries call
+912261309999 / 71309999
Support
support@upstox.com
Sales
sales@upstox.com
Review
Upstox Reviews
More on Stockamj
Learn more about Indian discount stock broker and a full-service stockbroker.

eyJpZCI6IjEwIiwibGFiZWwiOiJPcGVuIEFjY291bnQiLCJhY3RpdmUiOiIxIiwib3JpZ2luYWxfaWQiOiI2IiwidW5pcXVlX2lkIjoiYmpsMTdiIiwicGFyYW1zIjp7ImVuYWJsZUZvck1lbWJlcnNoaXAiOiIwIiwidHBsIjp7IndpZHRoIjoiMTAwIiwid2lkdGhfbWVhc3VyZSI6IiUiLCJiZ190eXBlXzAiOiJjb2xvciIsImJnX2ltZ18wIjoiIiwiYmdfY29sb3JfMCI6IiMzMzMzMzMiLCJiZ190eXBlXzEiOiJub25lIiwiYmdfaW1nXzEiOiIiLCJiZ19jb2xvcl8xIjoiI2ZmZmZmZiIsImJnX3R5cGVfMiI6ImNvbG9yIiwiYmdfaW1nXzIiOiIiLCJiZ19jb2xvcl8yIjoiI2NjMjgwMCIsImJnX3R5cGVfMyI6ImNvbG9yIiwiYmdfaW1nXzMiOiIiLCJiZ19jb2xvcl8zIjoiI2NjMjgwMCIsImZpZWxkX2Vycm9yX2ludmFsaWQiOiIiLCJmb3JtX3NlbnRfbXNnIjoiVGhhbmsgeW91IGZvciBjb250YWN0aW5nIHVzISIsImZvcm1fc2VudF9tc2dfY29sb3IiOiIjNGFlOGVhIiwiaGlkZV9vbl9zdWJtaXQiOiIxIiwicmVkaXJlY3Rfb25fc3VibWl0IjoiIiwidGVzdF9lbWFpbCI6InN0b2NrYW1qN0BnbWFpbC5jb20iLCJzYXZlX2NvbnRhY3RzIjoiMSIsImV4cF9kZWxpbSI6IjsiLCJmYl9jb252ZXJ0X2Jhc2UiOiIiLCJwdWJfcG9zdF90eXBlIjoicG9zdCIsInB1Yl9wb3N0X3N0YXR1cyI6InB1Ymxpc2giLCJyZWdfd3BfY3JlYXRlX3VzZXJfcm9sZSI6InN1YnNjcmliZXIiLCJmaWVsZF93cmFwcGVyIjoiPGRpdiBbZmllbGRfc2hlbGxfY2xhc3Nlc10gW2ZpZWxkX3NoZWxsX3N0eWxlc10+W2ZpZWxkXTxcL2Rpdj4ifSwiZmllbGRzIjpbeyJic19jbGFzc19pZCI6IjEyIiwibmFtZSI6IiIsImxhYmVsIjoiIiwicGxhY2Vob2xkZXIiOiIiLCJ2YWx1ZSI6IjxwIHN0eWxlPVwidGV4dC1hbGlnbjogY2VudGVyO1wiPjxzdHJvbmc+T3BlbiBUcmFkaW5nIEFjY291bnQgTm93PFwvc3Ryb25nPjxcL3A+PHAgc3R5bGU9XCJ0ZXh0LWFsaWduOiBjZW50ZXI7XCI+SnVzdCBTdWJtaXQgWW91ciBEZXRhaWxzXHUwMGEwYW5kIHdlIHdpbGwgdGFrZSBjYXJlIG9mIHJlc3Q8XC9wPiIsImh0bWwiOiJodG1sZGVsaW0iLCJtYW5kYXRvcnkiOiIwIiwiYWRkX2NsYXNzZXMiOiIiLCJhZGRfc3R5bGVzIjoiIiwiYWRkX2F0dHIiOiIifSx7ImJzX2NsYXNzX2lkIjoiMTIiLCJuYW1lIjoiZmlyc3RfbmFtZSIsImxhYmVsIjoiIiwicGxhY2Vob2xkZXIiOiJGdWxsIE5hbWUqIiwidmFsdWUiOiIiLCJodG1sIjoidGV4dCIsIm1hbmRhdG9yeSI6IjEiLCJtaW5fc2l6ZSI6IiIsIm1heF9zaXplIjoiIiwiYWRkX2NsYXNzZXMiOiIiLCJhZGRfc3R5bGVzIjoiIiwiYWRkX2F0dHIiOiIiLCJ2bl9vbmx5X251bWJlciI6IjAiLCJ2bl9vbmx5X2xldHRlcnMiOiIwIiwidm5fcGF0dGVybiI6IjAifSx7ImJzX2NsYXNzX2lkIjoiMTIiLCJuYW1lIjoiZW1haWwiLCJsYWJlbCI6IiIsInBsYWNlaG9sZGVyIjoiRW1haWwgSWQqIiwidmFsdWUiOiIiLCJodG1sIjoiZW1haWwiLCJtYW5kYXRvcnkiOiIxIiwibWluX3NpemUiOiIiLCJtYXhfc2l6ZSI6IiIsImFkZF9jbGFzc2VzIjoiIiwiYWRkX3N0eWxlcyI6IiIsImFkZF9hdHRyIjoiIiwidm5fb25seV9udW1iZXIiOiIwIiwidm5fb25seV9sZXR0ZXJzIjoiMCIsInZuX3BhdHRlcm4iOiIwIn0seyJic19jbGFzc19pZCI6IjEyIiwibmFtZSI6InBob25lIiwibGFiZWwiOiIiLCJwbGFjZWhvbGRlciI6IlBob25lIE51bWJlciAqIiwidmFsdWUiOiIiLCJodG1sIjoidGV4dCIsIm1hbmRhdG9yeSI6IjAiLCJtaW5fc2l6ZSI6IiIsIm1heF9zaXplIjoiIiwiYWRkX2NsYXNzZXMiOiIiLCJhZGRfc3R5bGVzIjoiIiwiYWRkX2F0dHIiOiIiLCJ2bl9vbmx5X251bWJlciI6IjAiLCJ2bl9vbmx5X2xldHRlcnMiOiIwIiwidm5fcGF0dGVybiI6IjAifSx7ImJzX2NsYXNzX2lkIjoiMTIiLCJuYW1lIjoiQ2l0eSIsImxhYmVsIjoiIiwicGxhY2Vob2xkZXIiOiJDaXR5IChNdW1iYWksIFN1cmF0LCBFdGMpIiwidmFsdWUiOiIiLCJodG1sIjoidGV4dCIsIm1hbmRhdG9yeSI6IjAiLCJtaW5fc2l6ZSI6IiIsIm1heF9zaXplIjoiIiwiYWRkX2NsYXNzZXMiOiIiLCJhZGRfc3R5bGVzIjoiIiwiYWRkX2F0dHIiOiIiLCJ2bl9vbmx5X251bWJlciI6IjAiLCJ2bl9vbmx5X2xldHRlcnMiOiIwIiwidm5fcGF0dGVybiI6IiJ9LHsiYnNfY2xhc3NfaWQiOiIxMiIsIm5hbWUiOiJzZW5kIiwibGFiZWwiOiJTdWJtaXQgTm93IiwiaHRtbCI6InN1Ym1pdCIsImFkZF9jbGFzc2VzIjoiIiwiYWRkX3N0eWxlcyI6IiIsImFkZF9hdHRyIjoiIn1dLCJvcHRzX2F0dHJzIjp7ImJnX251bWJlciI6IjQifX0sImltZ19wcmV2aWV3Ijoib3BhY2l0eS1ncmV5LnBuZyIsInZpZXdzIjoiMTI5OTYyIiwidW5pcXVlX3ZpZXdzIjoiNjMzMzQiLCJhY3Rpb25zIjoiNDU0Iiwic29ydF9vcmRlciI6IjYiLCJpc19wcm8iOiIwIiwiYWJfaWQiOiIwIiwiZGF0ZV9jcmVhdGVkIjoiMjAxNi0wNS0wMyAwMjowMTowMyIsImltZ19wcmV2aWV3X3VybCI6Imh0dHBzOlwvXC9zdXBzeXN0aWMtNDJkNy5reGNkbi5jb21cL19hc3NldHNcL2Zvcm1zXC9pbWdcL3ByZXZpZXdcL29wYWNpdHktZ3JleS5wbmciLCJ2aWV3X2lkIjoiMTBfMzcxNjg2Iiwidmlld19odG1sX2lkIjoiY3NwRm9ybVNoZWxsXzEwXzM3MTY4NiIsImNvbm5lY3RfaGFzaCI6IjE2NTE3YmJlZThhNzQyYzY5Zjg2ZDcyMzZkNGEyNGMzIn0=