Get details regarding how to Minimize Intraday Trading Risk.

Your Trading Experience?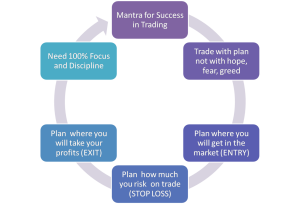 GOOD / BAD
Introduction
1.Intraday Trading is high Risk Business.
2.History.
3.Facts.
4.Price discovery.
5.Sentiments.

4 Requirements for Intraday Trading.
Right Knowledge.
1) Fundamental analysis:- Useful for long term trading.
2) Technical Analysis:- Useful for Intraday Trading.
Right infrastructure Machine / Power & Internet / software / Stock broker.
Low Brokerage.
Money Managements – How much Money you are Ready to lose?
Minimize Risk & Maximize Profit.
Discipline – King of all.
Follow your strategy.
Good & Bad Trading Day.
Good Trading Day:- Market move one way either up or down.
Bad Trading Day:- Market are clueless.This is the most difficult period for a trader.can you as a trader, change a bad trading day to a good trading day?
before the market starts can i know whether the market would be good or clueless today?
More Useful Article