The investment climate in our country is changing rapidly. With the proliferation of information technology, people are increasingly turning to investment schemes such as mutual funds, bonds and stock markets over traditional investments.
What is Mutual Fund?
A mutual fund is a trust. (This trust is registered through the Charity Commission of Trusts) This organization collects money from the people and invests that money in various securities. The investment was in line with the objective of the scheme. In other words, mutual is a way of accumulating the capital of the common people.
Some investors do not invest in stocks. But they find it easier to invest in mutual funds. This is because if the investor does not have a good knowledge of the stock market and does not have time to study the stock market, then all classes prefer to invest in mutual funds. As the value of the portfolio increases. As such, the unit price of the mutual fund increases. Every mutual fund has a different investment scheme. Some mutual funds invest in stocks, some in government bonds and some in both.
A fund that invests only in government securities has stable earnings. Funds that invest in stocks fluctuate in the price of their units.
Mutual Fund Growth In India
In our country, mutual funds are proving to be a very good investment tool, giving a very good return on investment, protecting the interests of the common man. At the end of November 2008, the total assets of mutual fund investments stood at Rs 1.5 lakh crore. It has now reached Rs 27 lakh crore by the end of November 2019. Wealth has increased 18 times in 10 years. Investors can plan from one day to long term thirty to forty years through this mutual fund. Mutual funds invest in different assets in different markets such as money market, debt market, equity market, commodity market.
Risk Factor In Mutual Funds
Investors are not deceived as SEBI has control over this mutual fund investment tool. However, different types of market risks for investing in different locations are reflected in this investment and the investment in mutual funds is related to the market risk in the advertisement of each mutual fund investment plan. The word "risk" is still a long way off for the average investor. These are just some of the goal setting shareware that you can use. However, most investors who invest are long-term; Many investors withdraw their investment as they do not get a return in a year or two.
Equity Mutual Funds
The types of equity mutual funds are mainly seen in different ways. There are three major types of market capitalization available. There are three major types of funds: Large-Cap Fund, Mid-Cap Fund and Small-Cap Fund. In all three cases, the investment is multi-cap. Investors who want to invest for ten years, fifteen years and take more market risk, now is the right time to invest in a mid-cap fund.
What is Mid Cap Funds?
Invest in medium-sized companies that are actively seeking investment opportunity for expansion. High risk. Mid-caps are more volatile than large-caps. Mid Cap funds Investment suitable for investors who seekds superior return in longer term period with greater risk proportion than long term funds.
Benefits of Mid-Cap Funds
Higher Returns than Large Cap Funds
Low risk as compare to small cap funds
Mid Cap stocks are priced lower than large cap stocks.
Mid cap funds helps to diversify your portfolio
Mid cap stocks gives high growth potential.
India's Top Mid-Cap Funds Comparisons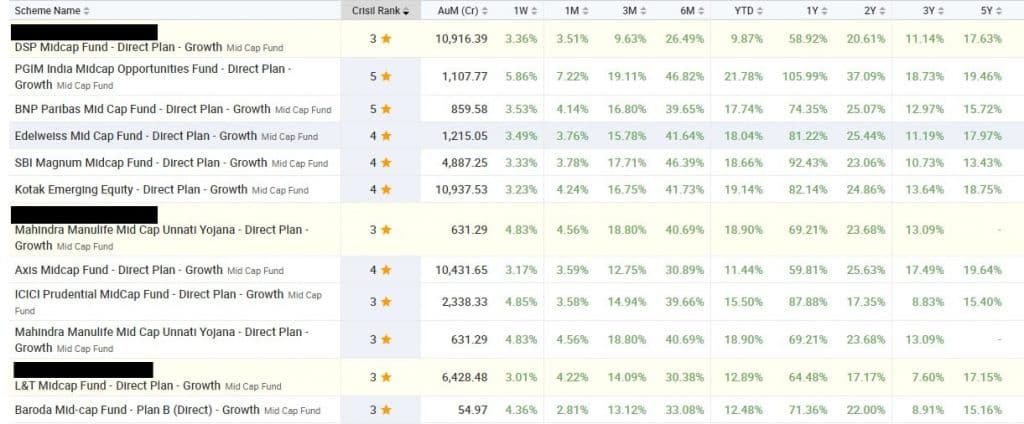 Mid-Cap Index Vs Large-Cap Index
Looking at the current market conditions, the Sensex is trading at an all-time high. However, certain companies in the Sensex seem to have reached higher levels. However, the mid cap Nifty 100 index is up to 24,000 & it's all time high. The Nifty 50 is also at its best.
The mid-cap index is likely to rise in the future. Looking at the plans in that mid-cap index, the unrolling returns show that the Nifty mid-cap has surpassed the Nifty Fifty by 70% every three years. Nifty Mid Cap has surpassed Nifty Fifty 90% in five years.
The Nifty Mid Cap Index has surpassed the Nifty Fifty 99% in ten years. Apart from that, if you look at the five-year rolling return, the average return is 100 times up to 8%. 31 times the return is from 8% to 15%, and 54 times it is more than 15%. But if you look at the same rolling return over a period of ten years, it has never returned below 8% in the average 100 points. 49 times 8 to 15% return is given. 51 times more than 15% return.
Impact of Covid-19 Pandemic on Mid-cap Index & Large cap Index
Index Name
Mid-Cap
Nifty Midcap 100
Large-Cap
Nifty50
Low
10750
24-Mar-2020
7511
24-Mar-2020
Market (Apr-2021)
24600
18450
Mid Cap Funds Returns
Even today, if you look at the returns of mid-cap fund schemes over the last ten years, the mid-cap index is at a low of 20%, but the return is 12% to 13%. The ups and downs in the mid-cap are large. Sometimes up to minus-20% is seen in a year. Looking at the last two years, the mid-cap index has returned minus 19% in 2018 and -4% in 2019. Investment in mid-cap is expected to grow over the next two to three years. If you want to invest for a period of ten years or more, a lump sum in mid-cap, STP. Or it may be worthwhile to invest in an SIP medium. At present, the Sensex is at an all-time high: however, the mid-cap index is currently trading at 24,300, up from a high of 24,600 in April 2021. So this opportunity should be taken by the general investors.
Conclusion
However, before investing, sit down with your family with a good advisor and plan for your future needs, setting long-term investment financial goals. Decide on a budget for inflation, then invest. Read the details of the plans carefully before investing Mutual funds should not forget that the investment in market is risky.
Take a Look