Recently, the IPO market has picked a pace in India. With numerous successful IPOs getting listed in the stock market, more and more people are taking an interest in IPO as an investment option. But before investing in an IPO, it is essential to perform a detailed analysis of the IPO. This can avoid any potential financial loss to the investors.
To facilitate such an assessment, additional information on any particular IPO can be beneficial. Here is where IPO (Initial Public Offering) grading can offer great help. With the rising number of retail investors and institutional investor in the IPO market, SEBI (Securities and Exchange Board of India) has made a mandatory task. There are various credit rating agencies that are allowed to rate any IPO.
Currently, IPO assessment is a daunting task that includes analyzing various documents and financial details of the particular IPO. Investors, especially from the retail category neither have time nor experience in analyzing such details. To help these investors take decisions easily, Grading is introduced. It presents facts and company's fundamental details in an entirely independent and unbiased manner. This helps investors in comparing the upcoming IPO with other listed firms and take decision accordingly.
What is the Process for IPO Grading?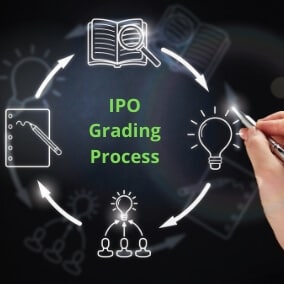 After SEBI made IPO grading mandatory, the issuer has to submit grading as an attachment with Red Herring Prospectus to the SEBI itself. The process of grading consists of multiple steps. Lets' take a look at these steps
There are multiple agencies out there which offer IPO grading services. Issuer selects any one of these agencies and signs the agreement.
These agencies charge certain fees for the service they provide. This fee is based on guidelines laid down by regulatory authority. If there are no specific guidelines, the fee is decided by the mutual understanding and discussion.
The hired agency then assesses past year financial statements, company details, various public information, it's a past record, and the prospectus filed with Securities and Exchange Board of India.
Agency also undertakes multiple meetings and discussions with the issuers of IPO regarding any discrepancies or clarifications that are needed.
After a thorough assessment, grading is finalized.
Finally, a grading committee meets to assign grading to the IPO. Along with the grading, agencies also provide a letter of grading and grading rationale.
What Method is Undertaken for IPO Grading?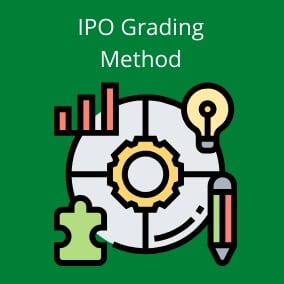 IPO grading is a very complex task. It includes multiple factors like the issuer's financial history; it's past financial performance, investment plans, analysis of the forecast of the business as predicted by the issuer, how the issuer will utilize the fund raised by the proposed IPO, and issuer's past record.
A competitive analysis is also a vital part of grading. This helps the investor understand where the issuer stands among its peers and competitors.
Overall, the grading is done after the quantitative and qualitative assessment of the issuer and the proposed IPO. This gives a complete insight of the IPO to the investors who are looking to invest in it. Doing this reduces the risk of an investor losing money due to lack of information about the IPO.
Quantitative Assessment
Agency performs a detailed quantitative assessment of the issuer on the basis of its financial status and strength. Quantitative assessment is all about the numbers and money. It is done by assessing past financial growth, earning, expenses, cash flow, assets, working capital, liquidity and profitability.
While performing a quantitative assessment, the agency also takes future financial planning into consideration. For e.g. future acquisition plans if any, capital expansion, and plans for utilization of the capital raised through the proposed IPO.
Qualitative Assessment
For a comprehensive assessment of the issuer, it's vital to analyze various qualitative factors too. Agency performs a detailed assessment of the market position and business domain of the issuer. It also analyzes the efficiency of the management of the company and it's promoters.
Moreover, the operating environment and past records about relations with other business associates are also scrutinized. Finally, accounting standards, compliance of the issuer with the laws and corporate governance are also analyzed.
Such a detailed assessment gives a holistic picture of the issuer and IPO to the investor. Agency leaves no stone unturned to give a perfect IPO grading to the proposed IPO.
IPO Grading as per SEBI (Securities and Exchange Board of India) norms
According to the IPO grading approved by the SEBI, all the IPOs are segregated into five gradings. Grade 1 shows the fundamental of the IPO issuing company is very poor and weak. On the other hand, Grade 5 shows the fundamental of the IPO issuing company is very strong and robust. For more details, take a look at all the grades and their meaning
SEBI grade 5- Strong Fundamentals
SEBI grade 4- Above average fundamental
SEBI grade 3- Average fundamental
SEBI grade 2- Below average fundamental
SEBI grade 1- Poor fundamental
What are the Benefits of IPO Grading?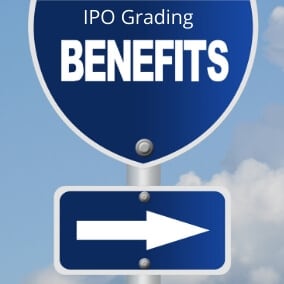 IPO grading is very helpful to investors. It offers them a complete picture of the IPO issuing company. This is very vital because many retail investors find it difficult to analyze IPOs on their own.
As the IPO grade issuing agencies are a third party and not the IPO issuing company itself, grading is quite dependable.
Grading also offers an opportunity to the investors of comparing the issuer of proposed IPO with other industry peers. This might help them better understand what to expect from the company they are planning to invest int.
Conclusion
Investors are always cautious about their investment. They prefer to perform a detailed analysis of the proposed investment options before taking any decision. Grading offers them a thorough assessment and makes their task easy. Grading brings in more potential investors.
Hope you have well-understood the detailed process of IPO grading in India. We can understand it's difficult to take a time out from your busy schedule for such analysis if you are not a regular investor.
Note:
If you are planning to invest in the IPO or any other stock market-related product, feel free to reach us. We offer comprehensive stock market-related services to our clients at a highly competitive price. Talk to us today for more information.
FAQ About IPO Grading
Who pays for the IPO grading process?
The company that wants to bring in an IPO pays for the grading process.
Should IPO issuer reject grades?
No, The issuer cannot deny the grade.
Does IPO Grading helps me to take decision?
Yes, IPO categorizes between 1 to 5 level. 5 level consider as a very good and 1 is consider as a poor.
Does SEBI interfere in the IPO grading process?
No, SEBI does not intervene in any way.
Does the IPO grading process determine the price of the IPO?
No, Grading only decided the fundamentals health of IPO.
Does Credit rating agencies are SEBI register?
Yes, Only Sebi regulated agencies can provide grades.
More Article on IPO