In times of extreme risk, the average investor is wary and starts pulling his investment out of the market. Smart investors do the opposite. When the media was talking about the Great Depression in 2009, most investors stayed out of the market. But, two investors were investing billions in the economy. One was Warren Buffett and the other was Howard Marx.
What must have motivated them to do so, since the whole world has renounced monopoly power?
No Short-Term Fears: Both were sitting quietly on long-term fixed capital and were ready to lose more money in the short term. Avoiding short-term risks makes many people's decisions worse.
Experience: Both relied on decades of experience. From this experience, they realized that markets follow the intrinsic values ​​of companies for a long time, while intrinsic values ​​of many companies were at a lifetime low. They were not aware of the time in the market. They were buying cheap.
Why Mutual Funds Are so Attractive?
With the prompt availability of NAVS (Net Asset Values), real time stock prices and thousands of investment products today – many investors are switching to mutual funds faster than stocks. Also, many investors tend to look at their performance every day (sometimes several times a day). It doesn't make much sense to check the NAVS every day for those who enter the stock market with a 10 year plan.
Index Funds
The gain or loss in this fund is based on the index (Nifty, Sensex etc.). For investors who are willing to take a risk, this fund is perfect for them. The Nifty rose by 1,200 points in 2016 and 2,200 points in 2017. The nifty fell by 5,500 points in the first three months of 2020 due to the Corona Pandemic, and a large number of purchases in the market over the next one year resulted in the index rising to 6,500 points. So investors got a lot of profit.
Note: When the movement of the index is site wise or the index is stable, the profit margin is very low.
Advantages of Index Funds
Easy to Understand
High Liquidity
Options to Diversify Portfolio
Index fund are managed by Professional.
Disadvantages of Index Funds
Zero Flexibility
Limited Gain
Average Returns
Fund managers charge higher fees.
Index Fund Returns Over the Years
Let take the example of UTI Nifty Index Fund – Direct Plan – Growth with help of chart.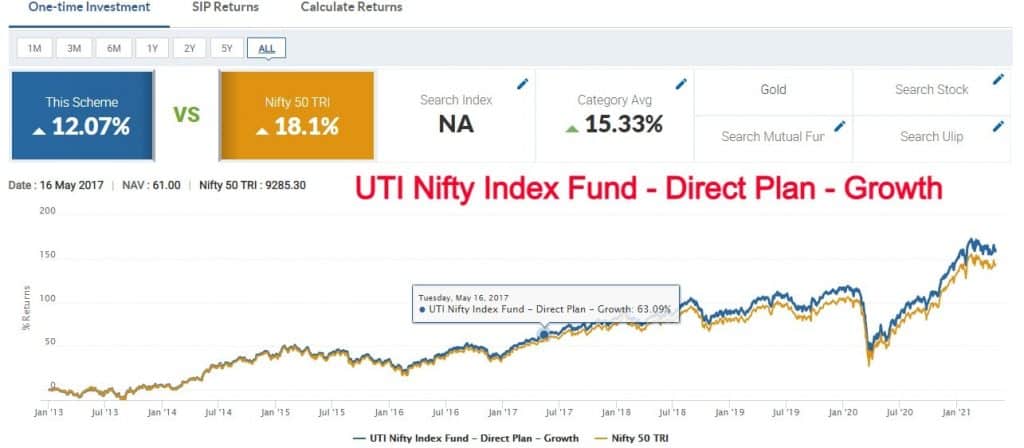 Do Index funds Make Sense for Investors Who Want to Enter the Market Today?
Yes, Index funds are good for investment at any time. Most important thing for investment is long term prospective. Every novice investor should consider the following before entering the market.
1.Choose Write Option
Index funds investment are great for first time investors. Mutual fund investors who are investing for the first time do not have the skills to choose the right mutual fund. So in today's uncertain environment, it becomes difficult to make a choice. To save time and ease, index funds make it easy for them to choose, instead of trying to choose the right mutual fund from the thousands of options available (without professional help), index funds are profitable and easy Is equal.
2. Minimal Approach
Minimalism means less is better. Most investors today tend to buy more mutual funds. This approach is extremely ineffective in the long run. New investors should be happy in low funds. Which should include a comprehensive, based index fund, including the International Index Fund for Diversification,
3. The Division of Wealth is Important
Investors spend a lot of time finding the right funds in their portfolio. In fact, a split based on a percentage is more important than what an investor buys. The focus should be on asset allocation with a proper risk profile with a disciplined investment. This gives the best results possible.
4.Portfolio Diversification
Index funds are suitable for most investors (not just for beginners) – more effective investors should divide their main portfolio into index funds, this is the part of their portfolio that should not be touched for long. The longer investors keep their index funds, the more effective they become.
Top 10 Index Funds In India
| Scheme Name | Crisil Rank | 1Y | 3Y | 5Y |
| --- | --- | --- | --- | --- |
| UTI Nifty Index Fund | 4 | 57% | 12% | 15% |
| ICICI Prudential Nifty Index Fund | 3 | 57% | 12% | 14% |
| SBI Nifty Index Fund | 3 | 57% | 12% | 14% |
| HDFC Index Fund | 3 | 57% | 12% | 14% |
| IDBI Nifty Index Fund | 3 | 56% | 12% | 14% |
| LIC MF Index Fund | 3 | 56% | 12% | 14% |
| HDFC Index Fund | 3 | 53% | 12% | 15% |
| IDFC Nifty Fund | 2 | 57% | 12% | 15% |
| Nippon India Index Fund | 2 | 57% | 12% | 14% |
| Franklin India Index Fund | 2 | 56% | 11% | 14% |
| ICICI Prudential Sensex Index Fund | 2 | 53% | 12% | – |
NAV & Returns data as on: 04-May-21
Conclusion
This is a great time for those looking to split long-term capital into equities. It is impossible to predict the future; Investors should therefore not fear short-term losses and invest in both bullish and bearish cycles for maximum portfolio flooding, in the current market conditions index funds may be useful for the purpose of facilitation.
Take a Look