Established in 1875, BSE [formerly Known as Bombay Stock Exchange Limited ], Is Asia's First& World's Fastest Stock Exchange with a speed of 6 microseconds and one of India's leading exchange groups. Over the past 140 years, BSE has facilitated the growth of the Indian corporate sector by providing it an efficient capital-raising platform.
BSE is a corporatized and demutualized entity, with abroad shareholder-base which includes two leading Global exchanges, Deutsche Boerse and Singapore Exchange as Strategic Partners.BSE provides an efficient and transparent market for trading in equity, currency, debt instruments derivatives, mutual fund.it also has a platform for trading in equities of small and medium enterprises [SME].
Bombay Stock Exchange Profile
Details
Address
Jeejeebhoy Towers,
Dadal Street, Mumbai 400001
Telephone
91-22-227221233/4
website
http://www.bseindia.com
Trading Hours
Monday-Friday 9.55 am-3.30 pm IST
Holidays
Bakri-id, Republic Day, Good Friday, Ramzan, Independence Day, Ganesh Chaturthi, Diwali
Securities
Stocks, bonds, derivatives
Trading System
Electronic
Key Stuff
Chairman – Jagdish Cpoor. CEO- Rajnikant Patel
Bombay Stock Exchange History
The Bombay Stock Exchange is the oldest exchange in Asia and this is the first among the 22Stock Exchanges recognized by the Government of India under the securities contracts(Regulation) Act, 1956.
It was the first one to be recognized and it is the only one that had the privilege of getting permanent recognition. On August 31, 1957, the BSE became the first stock exchange to be recognized by the Indian government under the Securities Contracts Regulation Act.
The idea of the stockexchange was born during British rule when the British formed the British EastIndia Company and did business with India.
Stock trading started verysoon, so the need for a market where stocks can be bought and sold can be felt.Therefore, 5 Indian brokers came together and started trading under the BanyanTree and thus Indian market started.
In 1875, 25 equity brokers came together to create "The Native Shares and Stock BrokersAssociation" and officially started trading in the stock market. To make this association, 25 Shares Brokers collected a contribution of 1 rupee.
In 1980,the exchange moved to the Phiroze Jeejeebhoy Towers at Dalal Street.
Interesting Facts about BSE.
There are 23 stock exchanges in the india. Bombay Stock Exchange is the largest, withover 6000 stock listed. The BSE account for over two thirds of the total volumein the country.
It is the 11th largeststock exchange that completes the transaction in 25 microseconds and Marketcapatalization with 1.8$ trillion as on 25th feb 2015.
The BSE accounts for over 2/3 of the total trading volume in country. Bombay Stock Exchange founded by Premchand Roychand.
All major company from different types of industry like Automobile, Chemicals, Cement, Tires, Trading, Textiles, Bank, Education, cable, Electronics are listed In Bombay Stock Exchange.
In 1986, it developed the BSE SENSEX index, giving the BSE a means to measure the overall performance of the exchange. Its turnover is 1/3 of the total turnover insecurities in india.
About SENSEX Index.
SENSEX was introduce by BSE on January 1st 1986
The SENSEXis as indicator of all the major companies of the BSE.
Stockmarket performance is the quantified by calculating an index using the benchmark scrip's and as know to all SENSEX (Sensitive Index) is associatedwith BOMBAY STOCK EXCHANGE.
Calculation of SENSEX
The method that is used to calculate Sensex is float market capitalization
method.
Formula to Calculate SENSEX
FREE FLOT MARKET CAPITAL
—————————————— * 100
BASE MARKET CAPITAL
Today's Current Scenario of BSE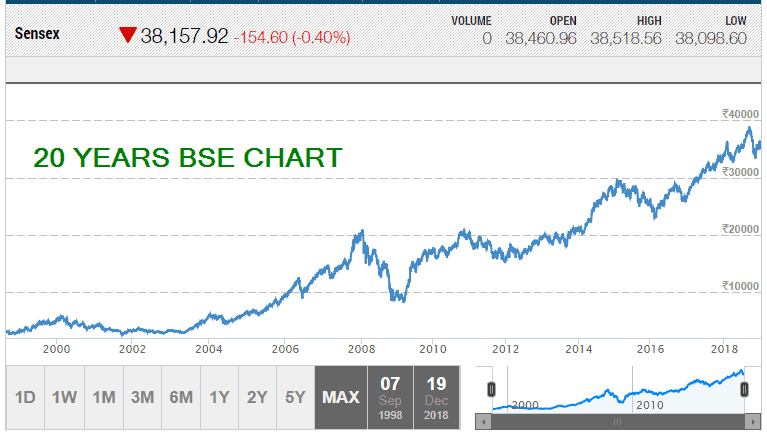 Bombay Stock Exchange Facts and Figures
In 2009, the average volume of business conducted on the BSE was
approximately $40 billion each month.
The number of shares traded each month on the BSE is in the range of
40-50 million.
The total market capitalization for the companies traded on the BSE is
in the are of $1.1 trillion. ALL OF THE ABOVE DOLLOR VALUES ARE STATED IN usd.
1ST in India to introduced Equity Derivatives.
1st in India to launch a Free Float Index.
1st in India to launch US$ version of BSE Sensex.
1st in India to launch Exchange Enabled Internet Trading Platform.
1st in India to obtain ISO certification for Surveillance,
Clearing & Settlement.
1st to have an exclusive facility for financial training.
Structure of Bombay Stock Exchange.
A Board of 9 directors
Executive Directors
3 Gov Nominees
An RBI Nominees
5 Public representatives.
NOTE: Executive Director is responsible for the day-2-days functioning and administration of stock exchange.
Scandals on the Bombay Stock Exchange.
1991-1992
1994-1995
1997
Harshad Mehta and Hiten DALAL.
1. Collusion of broker and top-management for the purpose of price rigging
M.S. Shoes Ltd.
Rupangi Impex Ltd.
Magan Industries Ltd.
1.C.R Bhansali Group
Fraudulent Accounting Practices
NBFC
Ready Forward Deals
2. Fraudulent Shares
Sesa Goa Ltd.
Banking Receipts
3. Harshad Mehta
Collusion of broker and top-management for the purpose of price rigging
BPL, Videocon, Sterlite.
Involvement of BSE Officials.
Lifetime Ban.
Manipulation
4. T+5 System Rolling Settlement System.
Sebi Act on April 4th 1992
5. BLESS
NSE Established in November 1992
Badla discountinued in 1993
Reform at BSE and Post Reform
January 2000: rolling settlement system(T+5 system)
Started with 10 scripts and Later 153 were brought under.
January 2001: Bless was introduced
July 2001: badla was wholly replaced by rolling settlement system
January 2001: all the shares in BSE were brought under this scheme
BSE Post Reform
Badla and BLESS were banned.
Short selling banned from march 2001 to july 2001
20% circuit filter for stocks in rolling settlement
Index based filter(10%, 15%, 20%)
Introduction of margin trading in September 2001
NSE Better Than BSE?
Yes NSE has Superior technology as compared to BSE.
More transparent marketplace.
NSE is a corporate body.
Promotes the growth of human capital.
An innovative approach to trading
Regular inspection and investigation.
Proper risk management system(PRISM and SPAN).
The telecommunication network is subjected to periodic checkup.
BSE VS NSE Comparison.
BSE
NSE
Number of companies
5096+
2000+
Market Capitalization
1,00,00,000 crores
US$ 1.47 trillion
Main Index
BSE Senxex
S&P CNX Nifty
Claim to fame
Asia's Oldest
India's Biggest
Website
www.bseindia.com
www.nseindia.com
Established Year
1875
1992
Ranks
10th in the world
15th in the world
Indexes
BSE SENSEX, BSE SMALL CAP,
BSE MID CAP.
BSE500
CNX Nifty
CNX Nifty Junior
CNX 500
Major Activities and BSE Milestones.
| DATE | BSE MileStone |
| --- | --- |
| 11-Feb-2014 | Launch of institutional Trading Platform on BSE SMS |
| 28-Jan-2014 | Launch of Interest Rate Futures(BSE-IRF) |
| 28-Nov-2013 | Launch of currency Derivatives(BSE-CDX) |
| 19-Feb-2013 | BSE enters into Statergic Partnership with S&P Dow Jones Indices |
| 30-Mar-2012 | BSE Launched trading in BRICSMART indices derivatives. |
| 30-Mar-2012 | Launch of BSE-SME Exchange Platform |
| 22-Feb-2012 | Launch of S&P BSE-GREENEX to promote investments in Green India. |
| 15-Jan-2011 | Co-Location facility at BSE – Tie up with Netmagic. |
| 7-Jan-2011 | BSE Training Ltd with IGNOU launches India's first 2 years fulltime MBA program specializing in Financial Market. |
| 11-Nov-2011 | Maharastra and United Kingdom Ministers launched Concept Note for S&P BSE Carbon Index. |
Major Attack on BSE.
On Friday 12 March a powerful car bomb exploded in the basement of the Bombay Stock Exchange Building.
Damages were?

28 story building.
About 45 were killed by this explosion.
All the offices were damaged.
Listed Companies in BSE Sensex Index.
| Name of the company | Industry Name |
| --- | --- |
| Adani Ports and Special Economic Zone Ltd. | Port |
| Asian Paints Ltd. | Paints |
| Axis Bank Ltd. | Bank – Private |
| Bajaj Auto Ltd. | Automobile Two & Three Wheelers |
| Bharti Airtel Ltd. | Telecommunication – Service Provider |
| Coal India Ltd. | Mining & Minerals |
| HDFC Bank Ltd. | Bank – Private |
| Hero MotoCorp Ltd. | Automobile Two & Three Wheelers |
| Hindustan Unilever Ltd. | Household & Personal Products |
| Housing Development Finance Corporation Ltd. | Finance – Housing |
| ICICI Bank Ltd. | Bank – Private |
| IndusInd Bank Ltd. | Bank – Private |
| Infosys Ltd. | IT – Software |
| ITC Ltd. | Cigarettes/Tobacco |
| Kotak Mahindra Bank Ltd. | Bank – Private |
| Larsen & Toubro Ltd. | Engineering – Construction |
| Mahindra & Mahindra Ltd. | Automobiles – Passenger |
| Maruti Suzuki India Ltd. | Automobiles – Passenger Cars |
| NTPC Ltd. | Power Generation/Distribution |
| Oil & Natural Gas Corporation Ltd. | Oil Exploration |
| Power Grid Corporation Of India Ltd. | Power Generation/Distribution |
| Reliance Industries Ltd. | Refineries |
| State Bank Of India | Bank – Public |
| Sun Pharmaceutical Industries Ltd. | Pharmaceuticals & Drugs |
| Tata Consultancy Services Ltd. | IT – Software |
| Tata Motors – DVR Ordinary | Automobiles-Trucks/Lcv |
| Tata Motors Ltd. | Automobiles-Trucks/Lcv |
| Tata Steel Ltd. | Steel & Iron Products |
| Vedanta Ltd. | Metal – Non Ferrous |
| Wipro Ltd. | IT – Software |
| Yes Bank Ltd. | Bank – Private |
More Useful Article